Recruitment Workshops Kick Off the DEBATE-Kansas City Season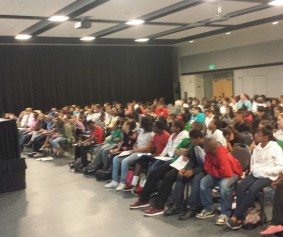 The DEBATE-Kansas City season is underway with two recruitment workshops in the books. League tournaments are just around the corner and University Academy is set to play host for both the middle school (Oct. 6)  and high school (Oct. 14) opening tournaments. This season DKC will have more than 30 schools in the league and expects up to 700 debaters.
The DKC season kicked off with the High School Recruitment Workshop at UMKC on September 9th. Four Kansas City Kansas Community College (KCKCC) debaters put-on a demonstration debate for high school students new to debate. Meanwhile, Corey Fisher and Jide Ajisafe of UMKC held a break-out session for varsity debaters. After the demo debate all students prepared and gave a speech about this year's topic – whether or not the US should increase ocean exploration. At the end of the workshop those with the most courage took the stage for a student debate that was judged by the KCKCC crew.
"It is always such a blast working with the DKC kids," said Katie Ford, one of the KCKCC debaters. "And it's awesome when novices are so determined to be the next best thing in debate. I am always in a good mood when I leave DKC tournaments and workshops because of these awesome kids in the KC metro."
DKC used the same format for the middle school event and KCKCC debaters returned to perform another demonstration debate over ocean exploration. The debate began a little technical for its young audience, but by the middle speeches the debaters kicked into another rhetorical gear and got the audience rocking. They started cheering after each speech and gave big laughs to a joke about the debate space being a "no flex zone."
After the debate there was a curious and charming occurrence: middle school students attending the workshop began collecting autographs from all the college debaters.
"I have never seen debaters get asked to sign autographs but I thought it was pretty great. I love the idea of debaters being treated like rock stars," said DKC's Executive Director Gabe Cook.
Approximately 350 debaters attended the two workshops from over a dozen schools, including Central of Kansas City, MO, which has a team after a three year hiatus. The combined workshop attendance matches DKC highest mark and shows strong interest in debate.
"It's good to see the league growing," said DKC's Program Director Isaac Allen. "We had more kids attend these two workshops than were in the league just three years ago. And seeing Central at a DKC event for the first time in three years, it makes DKC feel truly whole."
The Central debate team has a storied history, one that was told in the award-winning book Cross-X. Through hard work, community support and a partnership between DKC and Central the debate program has been revived. Central graduate Taylor Dias attended a workshop to meet the new members of his former squad and serve as a mentor. He plans to keep working with the Central squad and DKC hopes more Central graduates do the same.
The presence of program graduates and college debaters at DKC events gives young debaters excellent role models. It also adds energy to the room in a way that benefits both the mentors and mentees. DEBATE-KC is full of energy at all levels this year and ready for another successful season. Of course support from the community will be vital to another great year at DKC. Judges will needed at DKC tournaments (calendar) and a dozen schools could use a debate mentor.
If you would like to judge at DKC tournaments or mentor at a debate team please email debatekc@gmail.com.
Posted by Isaac on Friday, September 26th, 2014 @ 12:19AM
Categories: News