DEBATE-KC Season Opens Strong at Hallmark Sponsored Tournament at University Academy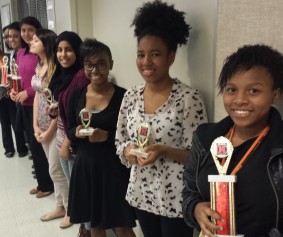 DEBATE-Kansas City's (DKC) competitive season began with the Hallmark Sponsored Tournament at University Academy on Tuesday, October 14th. Nearly 150 debaters from ten different schools competed in policy debate and student congress, which was 30 more competitors than last year. In fact, since Hallmark began sponsoring the season-opening tournament in 2012 it has nearly tripled in size.
"Hallmark is proud to support this important program and these bright students.  The skills they learn in debate, like critical-thinking and creativity, help them get ahead and stay there," said Cora Storbeck, Vice President of the Hallmark Corporate Foundation.
Support from Hallmark and other sponsors has been critical to DKC's recent growth. The high school league in particular has expanded and that enabled an exciting addition to this year's tournament: a junior varsity division.
"Seeing a junior varsity division on the schedule for the first time in years was a really big deal," said Gabe Cook, DKC's Executive Director. "Having a division in between novice (beginners) and varsity (advanced) is critical for keeping second year debaters and creating depth throughout the league."
The novice division was also the largest it has been in a number of years with 40 policy debate entries. This means DKC has nearly 100 first year debaters that could represent a wave of talent to further solidify the high school league.
"This is most novice debaters we've had in years and it bodes well for the future of DKC," said Isaac Allen, DKC's Program Director. "It is our mission to keep these young debaters in our league by providing them quality tournament experiences and support throughout the season."
The increased number of entries stretched the wonderful facilities at the host school University Academy (UA). Fortunately, the UA debate team is coached by DKC Hall of Famer Jane Rinehart and she was able use her experience to keep everything running smooth. She found every possible room the school had available, including a couple quiet hallways, and made sure young debaters were able to find their competition rooms.
After two rounds DKC compiled results for three division of policy debate and a full room of student congress. Sumner Academy had the best showing, taking first place in school sweepstakes, but a number of schools performed well. Lincoln Prep and Washington also took home sweepstakes prizes while students from University Academy, Wyandotte and newcomer Allen Village all took home trophies.
Hallmark Sponsored Tournament at University Academy Results
Novice Policy Speakers
Gyasi Talib, Allen Village High School
Nosa Eke, University Academy
Mia Scott, University Academy
Dominick Houston, Washington High School
Areli Lopez, Sumner Academy of Arts & Science
Novice Policy Debate Teams
Breanna Stinnett and Dominick Houston, Washington High School
Je'Nique Graham and Mia Scott, University Academy
Imani Reid and Kianna Riley, University Academy
Jazmine Ingram and Keyera Collins. Sumner Academy of Arts & Science
Gyasi Talib and Robert Christian, Allen Village High School
Regular Policy Speakers
Aminah Muhammad, Wyandotte High School
Bianca Harvey, Lincoln College Preparatory Academy
Melina Richardson, Lincoln College Preparatory Academy
Dru Demby, Sumner Academy of Arts & Science
Veronica Nichols, Washington High School
Policy Debate Regular
Ajhanae Franklin and Michell Tinoco-Morales, Sumner Academy of Arts & Science
Melina Richardson and Xochitl Tapia, Lincoln College Preparatory Academy
Aminah Muhammad, Wyandotte High School
Bianca Harvey and Sakina Bhatti, Lincoln College Preparatory Academy
Dru Demby and Michaela Charles, Sumner Academy of Arts & Science
Varsity Policy Speakers
Akia White, Washington High School
Monica Medeiros, Lincoln College Preparatory Academy
Aliyah Shaw, Sumner Academy of Arts & Science
Alyssa Moncure, Notre Dame de Sion
Olivia Dugan, Notre Dame de Sion
Policy Debate Varsity
Ellen Baker and Monica Medeiros, Lincoln College Preparatory Academy
Alyssa Moncure and Olivia Dugan, Notre Dame de Sion
Jorge Lopez, Lincoln College Preparatory Academy
Akia White and Elizabeth Hartegan, Washington High School
Faith Johnson and Kylah Owens,  Washington High School
Student Congress
Beighly Weiss, Sumner Academy of Arts & Science
Camree Mills-Gladney, Sumner Academy of Arts & Science
Michael Franklin, Sumner Academy of Arts & Science
Thalia Hernandez, Sumner Academy of Arts & Science
Karla De La Pena, Sumner Academy of Arts & Science
Team Sweepstakes Award
Sumner Academy of Arts & Science
Lincoln College Preparatory Academy
Washington High School
Posted by Isaac on Monday, October 20th, 2014 @ 9:56PM
Categories: News