Junior Nationals: A Once in a Lifetime Debate Experience for 50 DKC Students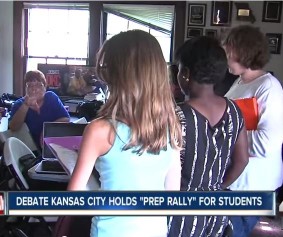 This June DKC saw the culmination of a year's worth of hard work at the National Speech and Debate Association's annual tournament. This tournament is among the most challenging and well-attended academic events in the world. The national tournament was held in Overland Park, KS and featured over 4,000 competitors from across the country and the world.
DKC was privileged to have 50 students compete from nine schools across the metro. As Isaac Allen Program Director of DKC explained on the KCUR's show Up-To-Date,"Nationals is the place where the best and the brightest from around the country compete. We wanted to make sure our students had the unique opportunity to participate when the tournament was in their own backyard."
To prepare for nationals DKC hosted a series of debate practices at the UMKC Debate House, which culminated with a Prep-Rally the day before the tournament that was covered by Channel 41 NBC Action News. DKC served up BBQ and recruited mentors and community supporters to listen to practice speeches and make final argument adjustments.
DKC students did more than just compete, they proved that they are some of the best debaters in the country. The team of Suan Sonna and Vanessa Obi, middle school debaters from Sumner Academy, placed as one of the top 16 policy debate teams in the nation and they became the first DKC middle school to team to place so high at the national tournament. Of equal note, Jared Hoskins of Lee A. Tolbert advanced to semi-finals in Student Congress for the second year in a row.
To place so highly at such a prestigious tournament speaks to the contributions of DKC debate teachers and the community as a whole. Of special importance were DKC mentors who worked tirelessly in the weeks and months leading up to the tournament and offered key coaching support during the event itself.
Mentors such as Shawnee Brunson, a Central graduate who worked with Lee A. Tolbert, are firmly committed to DKC's vision. Ms. Brunson says of her experience, "I love debate, but my heart has never been more involved. It's one thing to coach for somebody who already has a passion for debate, but for someone to try it out and give you a chance to show them why you love it—now that's dedication."
DKC is proud to have a community that believes in the importance of debate and humbled by the support of its mentors. As competitor Jared Hoskins noted, "We would not have made it this far without the help of the mentors."
Suan Sonna also highlighted the vital importance of mentors, saying, "The real victory was having all of this support from all of the people who believed in me."
DKC's Executive Director, Gabe Cook, said of nationals, "We are fortunate to have so many dedicated individuals who value debate and foster critical thinking. Achievements in debate don't come easily—students work long hours honing their skills, coaches and mentors give their time to guide students. It is a rare opportunity for middle school students to receive this kind of academic and intellectual opportunity."
Competing at the tournament was an amazing experience for all 50 DKC students. Savannah Miller of Coronado Middle School had this to say about her time at nationals, "Going to Nationals was great and a learning experience. I met several people from all over that nation and even Taiwan. I went into the tournament with my head held high with confidence. We had to wait five hours for the first round to start, but in the end it was all worth it. I was the student congress Presiding Officer, and I got to deliver two speeches. Even though I did not place or advance, my first time at nationals was great! It was a learning experience that I will never forget. I can't wait for debate to start next year."
Savanah's sentiment was broadly shared by the whole DKC family as nationals was truly a unique and inspirational experience. DKC also thanks the community supporters who donated to help DKC cover nationals expenses.
Posted by Isaac on Tuesday, July 8th, 2014 @ 4:37PM
Categories: News