DKC Weeknight Tournaments at Sumner and Lincoln Prep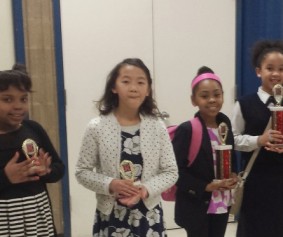 The DEBATE-Kansas City season continued with a high school tournament at Lincoln College Preparatory Academy on January 13th and then a middle school meet at Sumner Academy of Arts and Sciences on January 20th. Both tournaments followed busy and successful weekends by the tournament hosts. Sumner held its Tuesday night tournament after winning the Kansas State Championship in 4-speaker debate and placed third in 2-speaker. Meanwhile, the weekend before Lincoln Prep hosted its Tuesday competition they swept the City Champs in all three divisions of policy debate.
At the two DKC weeknight tournaments students from 30 schools competed in policy debate and student congress. Pictures and full results can be found below.
Lincoln Prep – High School Tournament Results
Novice Teams
University Academy, Kent Crockett and Brandon Fields
Lincoln Prep, Xochitl Tapia and Melina Richardson
Lincoln Prep, Bianca Harvey and Anna Crawford

 
Novice Speakers
University Academy, Brandon Fields
Lincoln Prep, Cheyenne Clopton
University Academy, Mia Scott

 
Varsity Speaker
Lincoln Prep, Phillip Nguyenumner Academy
Sumner Academy – Middle School Tournament Results
Novice Speakers
Barstow School,Emma Jenkins
Barstow School, Zoe Brous
Barstow School, Aasim Hawa
Alta-Vista Middle School, Jeseka McDaniel
Coronado Middle School, Alexander Solis

 
Novice Teams
Barstow School, Zoe Brous and Emma Jenkins
Barstow School, Luke Lapatofsky and Aasim Hawa
Coronado Middle, Kendon McClaine and Alexander Solis
Kauffman School, Ian Rowse and Donovan Herron
Argentine Middle, Elizabeth Walters and Arleth Ramos

 
Varsity Speakers
Lee A. Tolbert Community Academy, Gerron Jackson
Barstow School, Shaunak Lockre
Foreign Language Academy, Andrew Valdivia
Sumner Academy of Arts & Science, Savannah Miller
Sumner Academy of Arts & Science, Kasey Romo-Nieves
Barstow School, Taha Fanaswala

 
Varsity Teams
Barstow School, Darrius Hughes and Shaunak Lockre
Barstow School, Taha Fanaswala and Saketh Dendi
Foreign Language Academy, Monica Bates and Aaron (Max) Baker
Barstow School, Ajay Guduputi and Paul Case
Lee A. Tolbert Community Academy, Leandrea Salary and Gerron Jackson

 
Novice House A
Central Middle, Aileen Vera
Turner Middle, Ethan Maxey
Foreign Language Academy, Jack Vldivia
Turner Middle, Valeria Beltran
Turner Middle, Sabrina Whalen

 
Novice Congress B
Turner Middle, Alien Lujan
Sumner Academy, Adriana Requenes
Turner Middle, Michelle Smith
Turner Middle, Jeremiah Coleman
Northwest Middle, Janiyah Tadlock

 
Congress House A
Lee A. Tolbert Community Academy, Marquies Johnson
Smith Hale Yusuf Khan
West Middle, Austin Frazier
West Middle, Armani Mitchell
Arrowhead Middle, Katie Hogue

 
Congress House B
Lee A. Tolbert Community Academy, De'na Newborn
West Middle, India Conway
Foreign Language Academy, Henry Valdivia
University Academy, ShaKara McCalley
Lee A. Tolbert Community Academy, Cyniah Clark

 
Congress House C
Faith Academy, Karen Dorsainville
Smith Hale, Dionna Moore
Argentine Middle, Cecillia Saunders
West Middle, Deavin Trigg
Smith Hale, Andrew Frazier

 
Congress House D
Lee A. Tolbert Community Academy, Erika Scott
Faith Academy, Kimimela LeDoux
Lee A. Tolbert Community Academy, Mariyah Haliburton
Coronado Middle, Aubrey Her
Lee A. Tolbert Community Academy, Tylecia Wiley
Sweepstakes
Lee A. Tolbert Community Academy,
Barstow School
Argentine Middle School
Posted by Isaac on Thursday, January 22nd, 2015 @ 8:20AM
Categories: News