Crowning Champions & Honoring Family. DKC City Champs 2015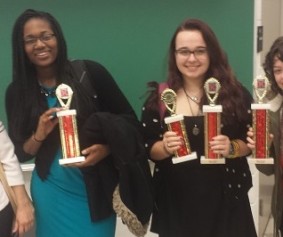 The DKC City Championship was held on January 10th and 11th on the campus of UMKC and the Lincoln Prep debate team stole the show. They swept all three divisions of policy debate and the team of Monica Medeiros and Ellen Baker took first place in varsity for the third straight year, earning their third bid to the Urban Debate Nationals in Los Angeles, California this April.
However, the City Champs and the success of Lincoln Prep came on the cusp of tragedy. Aaron Thomas, a DKC graduate and Lincoln Prep assistant coach, was killed in a car wreck on New Year's day. His funeral was held the day before the City Champs and many members of the DKC family were in attendance. Aaron debated for Central during some of their most successful years and won numerous awards during his career. Aaron had volunteered with DKC ever since graduating high school, debated at Kansas City Kansas Community College and was set to graduate Rockhurst in May with a Bachelor's degree.
Prior to the awards ceremony DKC honored Aaron with remarks from his Central coach Jane Rinehart, fellow teammate Shawnee Brunson and his old debate partner Matheno Frazier-Bey, who took the train all the way from Baltimore. Aaron Thomas was remembered for how much he genuinely cared about people, his heart melting smile and his never-ending desire to learn. Before trophies were handed out the room gave Aaron a standing ovation and those who loved him most reminded everyone that the best way to honor Aaron was to keep debating.
The loss of such an amazing DKC graduate certainly cast a shadow over the weekend, but that did not prevent hard fought debate rounds from occurring as students vied to be named champions of the city. Over fifty students from ten schools and two states competed with a bid to Urban Debate Nationals on the line. Lincoln Prep ended up winning all three policy divisions and earning the bid to Nationals for the sixth consecutive year. Sumner, University Academy and Washington all broke teams to elimination debates. A full list of winners is below.
Full Tournament Results
Novice Teams
Lincoln Prep, Cheyenne Clopton and Tasjia Thomas
Lincoln Prep, Alex Thompson and Sakina Bhatti
University Academy, Brandon Fields and Kent Crockett
Washington High School, Nick Schwab and Josh Strammel

 
Regular Teams
Lincoln Prep, Bianca Harvey and Anna Crawford
Sumner Academy, Ajhanae Franklin and Dru Demby

 
Varsity Teams
Lincoln Prep, Ellen Baker and Monica Medeiros
Lincoln Prep, Anisa Nash and Chebet Buckner

 
Novice Speakers
University Academy, Brandon Fields
Lincoln Prep, Cheyenne Clopton
Wyandotte High School, Alayah Womack
University Academy, Mia Scott
Patton Junior High, Chayne Dessaso

 
Regular Speakers
Lincoln Prep, Melina Richardson
Lincoln Prep, Anna Crawford
Sumner Academy, Brandon Bush

 
Varsity Speakers
Sumner Academy, Michael Franklin
Lincoln Prep, Monica Medeiros
Lincoln Prep, Ellen Baker
Lincoln Prep, Phillip Nguyen
Wyandotte High School, Gary Bradley-Lopez
DKC held the middle school arm of the City Championship this April the results of that competition are below:
Top 20 Middle School Congress
Lee A Tolbert Community Academy, Dena Newborn
Arrowhead Middle, Tkhara Jones
Lee A Tolbert Community Academy,Logan Bates
Lee A Tolbert Community Academy, Marques Johnson
Foreign Language Academy, William White
Sumner Academy, Adriana Suarez
Lee A Tolbert Community Academy, Tylecia Wiley
Smith Hale Middle, Yusuf Khan
Turner Middle, Rosa Reyes
Arrowhead Middle, Katie Hogue
Lee A Tolbert Community Academy, Erika Scott
Foreign Language Academy, Hennery Valdivia
Lee A Tolbert Community Academy, Mariyah Haliburton
Center Middle, Xander Hacking
Turner Middle, Ethan Maxey
Coronado Middle, Anthony Lasley
Sumner Academy, Leon Brown
Smith-Hale Middle, Andrew Frazier
Foreign Language Academy, Jesus Campos
Arrowhead Middle Ashanti Goodlow
Top Novice Middle School Teams
Barstow School, Zoe Brous and Emma Jenkins
Barstow School, Aasim Hawa and Miles Luce
Kauffman School, Ian Rowse and Donovan Herron
Barstow School, Mimi Wright and Surbhee Patil
Top 10 Novice Middle School Speakers
Barstow School, Emma Jenkins
Kauffman School, Donovan Herron
Barstow Schoo, Zoe Brous
Barstow School, Aasim Hawa
Arrowhead Middle School, Phillip Hayes
Alta-Vista Middle School, Jeseka McDaniel
Barstow School Miles Luce
Lee A. Tolbert Community Academy, Dacoda Sublett
Turner Middle School, Anthony Quiroga
Benjamin Banneker Charter Academy, Xavier Hinton
Top Varsity Middle School Teams
Barstow School, Shaunak Lokre and Taha Fanaswala
Barstow School, Hannah Tadros and Julia Butch
Barstow School, Kristin Tingle and Tyler Durwood
Foreign Language Academy, Monica Bates and Aaron (Max) Baker
Top Varsity Middle School Speakers
Barstow School, Taha Fanaswala
Barstow School, Kristin Tingle
Barstow School, Tyler Durwood
Foreign Language Academy, Aaron (Max) Baker
Foreign Language Academy, Andrew Valdivia
Sweepstakes
Lee A Tolbert Community Academy
Foreign Language Academy
Barstow School
Posted by Isaac on Thursday, January 22nd, 2015 @ 12:02AM
Categories: News