DEBATE-KC Goes to Des Moines. A Recap of DKC's Trip to the Dowling Tournament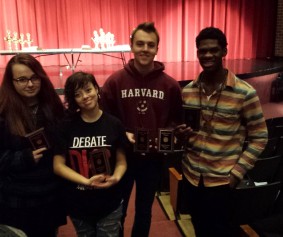 DEBATE-Kansas City (DKC) used support from the Arthur N. Rupe Foundation to sponsor a trip to the Dowling Catholic Invitational Speech and Debate Tournament in Des Moines, IA December 11-14, 2014. The trip included 27 students from four schools that competed in novice, junior varsity and varsity policy debate. DKC students saw great success, especially in the varsity division where DKC had three of the top 10 speakers out of nearly 100 competitors.
DKC provided students and coaches from Center, Lincoln Prep, University Academy and Washington lodging and paid tournament entry fees, which were kindly cut in half by the Dowling. Schools provided their own transportation to the national circuit tournament where bids to the Tournament of Champions (TOC) were on the line.
Two of DKC's varsity teams advanced to the double-octo elimination debates. Mylan Gey & Alex Trobough from Sumner Academy and Monica Mederios & Ellen Baker from Lincoln Prep both lost narrowly lost their elimination debates on 2-1 decisions that easily could have gone the other way. Though both teams were disappointed to not advance further, their speaker awards offered some consolation. Mylan Grey was named the fourth place speaker, Monica Mederios was eighth and Alex Trobough was ninth.
In the novice division the duo of Brandon Field & Kent Crockett from University Academy advanced to elimination debates but lost to the eventual champions from Iowa City West. For these students and many others on the trip it was their first experience at a national circuit tournament where all the judges have debate experience and many of the competitors are from prestigious debate programs.
"Our students enjoyed the challenge and the exposure to college-oriented debate," said DKC's Executive Director, Gabe Cook, who was on the trip along with DKC Program Director, Isaac Allen. "I had several conversations with kids about how much they were learning from each round and how excited they were to get better. They saw another level of debate excellence and they want ed to reach it," said Mr. Cook.
In addition to DKC staff, 10 area college debaters and DKC program graduates joined the trip as mentors and covered DKC's judging obligations. Their support was absolutely critical because many of teams at the Dowling had extended coaching staffs.
"Our mentors did a wonderful job. They gave our debaters confidence and critical advice throughout the tournament," said Mr. Allen. "With many of them being program graduates it creates a feeling of an extended family and a source of pride."
The trip to the Dowling had been an informal tradition that was lost during recession-induced budget cuts. DKC hopes to make the trip a formal tradition that includes every DKC high school. If you would like to support DKC so that trips like the Dowling remain possible and so that we can create future opportunities please donate here.
Posted by Isaac on Wednesday, February 4th, 2015 @ 10:39PM
Categories: News