Tournament Results to Finish First Semester at Washington and Lee A. Tolbert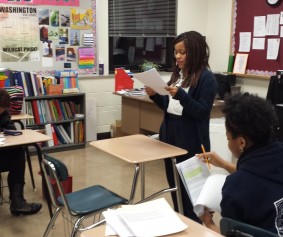 DEBATE-Kansas City finished first semester competition at two tournaments. On December 5th Washington High hosted (for the second time this season) a high school weeknight tournament and on December 12th Lee A. Tolbert Community Academy hosted hosted the final middle school weeknight tournament of the semester.
Results from both tournaments are found below.
High School Results from Washington Tournament 
Team Sweepstakes
Sumner Academy of Arts & Science
Washington High School
Wyandotte High School
Novice Policy Debate- Speakers
Sumner Academy of Arts & Science, Marley Lowe
Sumner Academy of Arts & Science, Aliyah Shaw (Sumner Academy SL),
African Centered College Preparatory Academy, Freshelle Asberry
Sumner Academy of Arts & Science, Valeria Munoz
Sumner Academy of Arts & Science, Faith Davis
Novice Policy Debate- Teams
Sumner Academy of Arts & Science, Marley Lowe and Aliyah Shaw
African Centered College Preparatory Academy, Freshelle Asberry and Tania Taylor
Washington High School Elizabeth Hartegan and Akia White
Sumner Academy of Arts & Science, Valeria Munoz and Michaela Charles
Sumner Academy of Arts & Science, Ian Pack and Dru Demby
Open Policy Debate- Speakers
University Academy, Kayla Gilmore
Washington High School, Phillip Jones
Washington High School, Willie Tolon
Wyandotte High School, Aminah Muhammad
Washington High School, Kylah Owens
Open Policy Debate- Teams
University Academy, Demetrius Sterling and Jazmyne Smith
Washington High School, Willie Tolon
Wyandotte High School, Gary Bradley-Lopez
Washington High School, Phillip Jones and Kylah Owens
University Academy, Kayla Gilmore and Shawndrea Magee
Congress Top 5
Sumner Academy of Arts & Science, Michael Franklin
Sumner Academy of Arts & Science, Alexis Fant
Sumner Academy of Arts & Science, Kaelin Marshall Allen
Sumner Academy of Arts & Science, Maira Ortiz
Washington High School, Stephanie Garfio
Middle School Results from Lee A. Tolbert Tournament 
Team Sweepstakes
Lee A. Tolbert Community Academy
Sumner Academy of Arts & Science
Foreign Language Academy
Novice House
Coronado Middle School, Racquel Barnett
Benjamin Banneker Charter Academy, Zaharah Muhammed
Smith-Hale Middle School, Alexandria Wakefield
Barstow School, Aayush Karan
Turner Middle School, Matthew Jones
House A
Lee A. Tolbert Community Academy, Garrett Washington
Central Middle, Erika Rodriguez-Montoya
Foreign Language Academy, Taylor Corn
Eisenhower Middle School, Obrian Stewart
Lee A. Tolbert Community Academy, Marquies Johnson
House B
Sumner Academy of Arts & Science, Areli Lopez
Lee A. Tolbert Community Academy, Logan Bates
Sumner Academy of Arts & Science, Colin Barnes
Sumner Academy of Arts & Science, De'Auan McClaine
Lee A. Tolbert Community Academy, Llewelyn Rivers
House C
Sumner Academy of Arts & Science, Latitia Murdock
Smith-Hale Middle School, Ny'Shaun Newsome
Arrowhead Middle School, Phillip Hayes
Lee A. Tolbert Community Academy, De'na Newborn
Lee A. Tolbert Community Academy, Kajuan Farmer
House D
Lee A. Tolbert Community Academy, Castrele Hoy
Turner Middle School, Santina Hernandez
Foreign Language Academy, Carina Martinez
Center Middle School, Kate Besong
Foreign Language Academy, Maggie Crawford
House E
Coronado Middle School, Khatiya Hooks
Central Middle, Eva Alvarez Mendoza
Coronado Middle School, Michael Ross
Smith-Hale Middle School, NyJaih Randall-Page
Lee A. Tolbert Community Academy, Alexis Mitchell
Open Policy Debate- Speakers
Barstow Debate, Audun Sundeen
Benjamin Banneker Charter Academy, Shyiesha Flag
Benjamin Banneker Charter Academy, Cheyenne Clopton
Barstow Debate, Megan Nalamachu
Barstow Debate, Hannah Tadros
Open Policy Debate- Teams
Benjamin Banneker Charter Academy, Cheyenne Clopton and Shyiesha Flag
Barstow Debate, Kristin Tingle and Megan Nalamachu
Barstow Debate, Audun Sundeen and Grayson Spidle
Benjamin Banneker Charter Academy, Cordell Parham and Marques Lynch
Barstow Debate, Haley Turner and Hannah Tadros
Varsity Policy Debate- Speakers
Lee A. Tolbert Community Academy, Jared Hoskins
Foreign Language Academy, MaryBeth Eddy
Foreign Language Academy, Lucy Mulholland
Lee A. Tolbert Community Academy, Josiah Hoskins
Foreign Language Academy, Anna Crawford
Varsity Policy Debate- Teams
Foreign Language Academy, Mary-Beth Eddy and Anna Crawford
Sumner Academy of Arts & Science, Vanessa Obi and Suan Sonna
Lee A. Tolbert Community Academy, Jared Hoskins and Josiah Hoskins
Foreign Language Academy, Bianca Harvey and Lucy Mulholland
Foreign Language Academy, Sam Keeney and Andrew Valdivia
Posted by Isaac on Wednesday, January 8th, 2014 @ 9:26PM
Categories: News