Mentors Foundation Partners with DEBATE-KC to Empower Lasting Student Achievement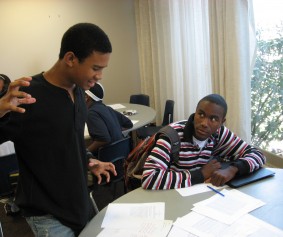 DEBATE-Kansas City (DKC) has received a significant grant from the Mentors Foundation to ensure that students in Kansas City schools with limited resources have access to academic debate. Through the partnership 85 students will receive for support for debate mentoring from their head coaches and DKC programming. The $42,500 grant also improves DKC stability after recession-induced budget cuts shrank support for debate in recent years.
Anyone who has debated knows the value of mentoring. Debaters not only need guidance for how to research, craft and deliver complex arguments, they need guidance as they mature into young adults. Strong mentors help students learn the lessons of competition, like how to win with humility or lose with grace. They demonstrate the importance of hard work and preparation with after school practice and model how to be professional when traveling to tournament competition.
"Mentors Foundation is pleased to partner with DEBATE-KC," says Marilyn Mecham, Executive Director, "in preparing students to succeed in school and in life.  We value the mentors/coaches who are committed to providing personal and educational guidance, affording debaters the opportunity to complete a meaningful education."
Mentors Foundation support comes at a great time for DKC as the program has been expanding. Over the past two years student participation in DKC's Urban Debate League has increased 83%. Currently DKC has 574 active debaters – the highest number since 2009. Mentors Foundation support will allow DKC to grow while continuing to provide a dynamic academic experience for participating students.
"DKC provides a full spectrum of student debate services and mentoring is a huge component," said Gabe Cook, DKC Director. "We recruit and modestly pay DKC graduates and area college debaters to visit schools and mentor younger debaters. We provide extensive training and resources for the most important mentor on any debate team – the head coach. We run the debate league and DKC staff mentor students with school visits, special tournament support and workshops."
The partnership with the Mentors Foundation will also improve DKC's ability to connect its students to community and service. The DKC students selected to receive a Mentors Foundation scholarship have committed to becoming mentors themselves. The goal is to create a cycle of empowerment where students receive mentorship in debate that enables their success, which they later share with a younger debater who can do the same. After time the cycle of mentoring can become institutionalized and create lasting change, which is the mutual goal.
"At Mentors Foundation we are dedicated to empowering people to help themselves, recognizing that assisting people at the grass-roots level is the most effective means for that person to truly develop," said Marilyn Mecham. "Through DEBATE-KC we are working with young people who have great potential, who someday will themselves be role models and mentors."
You can visit and like the Mentors Foundation Facebook page to follow stories of DKC mentorship and to learn more about the organization.
Posted by Isaac on Thursday, January 9th, 2014 @ 12:27AM
Categories: News