DKC Team Makes Varsity Finals at Missouri State Tournament on Go Fund Me Sponsored Trip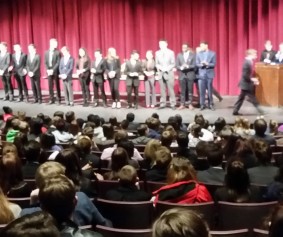 DEBATE-Kansas City (DKC) Go Fund Me Donors sponsored a trip to the Missouri State Speech and Debate Tournament December 9th and 10th, 2016. The trip was a big success as Sumner Academy's duo of Michael Franklin and Royal Sullivan placed second in varsity policy debate. In all, fifteen students from two DKC schools competed in three events with the majority of entries being in policy debate.
Weekend travel tournaments are a reward for hard work and they help create future success. Students enjoy the time to bond with teammates as they take-in a new city while competing in speech and debate. DKC students were able to compete against teams from southern Missouri that they don't normally meet in the Kansas City circuit.
Another benefit of the trip was that many of the judges were Missouri State debaters, and DKC students really appreciate having judges with a debate background. This gave DKC students solid decision making and valuable feedback from their judges.
In addition to Sumner Academy, University Academy made the trip to Springfield, Missouri. Though University Academy did not advance a policy debate team to eliminate debate rounds, they did defeat the top varsity team from the tournament's biggest debate program, Springfield Central. And competing at Missouri State gave them valuable experience that can help led to future victories.
The biggest success story from the weekend was Sumner's policy duo of Michael Franklin and Royal Sullivan winning second place in the varsity division. Michael and Royal bring a unique perspective to debate. They question traditional norms and elevate their critical analysis to break-down the structures they occupy as debaters.
Michael Franklin said, "I found it to be a great experience, to spread a message that people might not hear too often."
Royal Sullivan added, "I thought it was fun spreading a style of the debate most of our opponents hadn't encountered much before. Not only did the judges agree with our message, but by the end of the round, the opposing team saw some flaws in their style of debate, as well."
Overall the trip to Missouri State was an extremely valuable experience for the DKC students and coaches. Trophies were won, lessons were spread and learned and every DKC student on the trip gained debate experience. DKC expresses its sincere appreciation to the Go Fund Me donors that made this academic debate tournament accessible for DKC students.
DEBATE-KC thanks the following Go Fund Me Donors
Advocate
Joe Hamaker
Kristin Shaw
Varsity
Dave Kingston
Elizabeth  French
Mary Beth  Vega
Miranda Nichols
John  Lindsey
Clint Clevenger
Laura Loyacono
Champ
Monica  Vega
Quinn O'Brien
Fred Hays
Legend
Sarah Hays
Andy Atkins
Ellen OBrien
 Ryan Hays
Posted by Isaac on Monday, December 12th, 2016 @ 5:31AM
Categories: News