DKC Opens Middle School Season as Royals Open World Series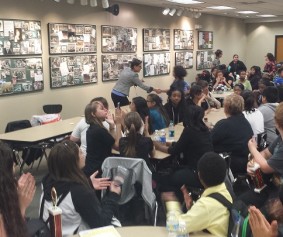 On Tuesday, October 21st, the DEBATE-Kansas City middle school season opened at The Barstow School. It was the same night the Royals started the World Series against the Giants and DKC staff worked furiously with tournament host Linda Collier (Barstow head coach and DKC founder) to get the tournament completed on time. Well over 200 students competed from over a dozen area middle schools.
DEBATE-Kansas City is grateful to all the judges that came out – especially all the high school debaters from Barstow, Sumner and others. DKC tournaments require over two dozen judges and the volunteer efforts from high school debaters and members of the community is greatly appreciated.
Full Tournament Results:
Team Sweepstakes Award
Lee A. Tolbert Community Academy
Barstow School
Sumner Academy of Arts & Science

 
Top Novice Policy Speakers
Aasim Hawa, Barstow School
Darrius Hughes, Barstow School
Deb Vasquez, Arrowhead Middle School
Gabriela Perez, Central Middle
Kendon McClaine, Coronado Middle School

 
Novice Policy Teams
Sam Short and Darrius Hughes, Barstow School
Kendon McClaine and Alexander Solis, Coronado Middle School
Aasim Hawa and Miles Luce, Barstow School
Kasey Romo-Nieves and Darrien J. Sanders, Sumner Academy of Arts & Science
Humza Kahn and Eric Kushnir, Barstow School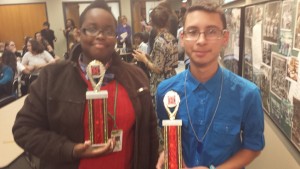 Varsity Policy Speakers
Saketh Dendi, Barstow School
Monica Bates, Foreign Language Academy
Kristin Tingle, Barstow School
Tyler Durwood, Barstow School
Taha Fanaswala, Barstow School

 
Varsity Policy Teams
Tyler Durwood and Kristin Tingle, Barstow School
Sam Keeney and Andrew Valdivia, Foreign Language Academy
Paul Case and Saketh Dendi, Barstow School
Gerron Jackson and Leandrea Salary, Lee A. Tolbert Community Academy
Hannah Tadros and Haley Turner, Barstow School

 
Chamber A 6th Grade Congress
Erika Scott, Lee A. Tolbert Community Academy
Adrianna Gonzalez Central Middle
Marisol Woods University Academy Middle School
Kaiya Johnson Coronado Middle School
Jaclyn Lawrence, Arrowhead Middle School       

 
Chamber B 6th Grade Congress
Briyanna Miller, West Middle School
Mikayla Mielkus, Arrowhead Middle School
Katie Hogue, Arrowhead Middle School
Mariyah Haliburton, Lee A. Tolbert Community Academy
Cyniah Clark, Lee A. Tolbert Community Academy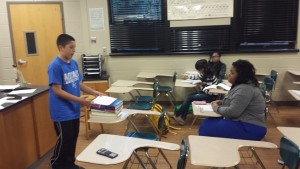 Novice Congress Chamber A
Chalil Sanders, Arrowhead Middle School
Chad Estes, Arrowhead Middle School
Nasir Muhammad, Northwest Middle School
Ethan Maxey, Turner Middle School
Andrew Frazier, Smith-Hale Middle School

 
Open Congress Chamber A
Kyra Duwe, Arrowhead Middle School
Marquies Johnson, Lee A. Tolbert Community Academy
T'Khara Jones, Arrowhead Middle School
Jonah Andrews, West Middle School
Anthony Lasley, Coronado Middle School

 
Open Congress Chamber B
De'na Newborn, Lee A. Tolbert Community Academy
Merci Russell, Alta-Vista Middle School
Adriana Suarez, Sumner Academy of Arts & Science
Rebecca Bell, Northwest Middle School
Dionna Moore, Smith-Hale Middle School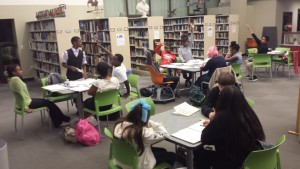 Open Congress Chamber C
Yusuf Khan, Smith-Hale Middle School
Xavier Wallace, Northwest Middle School
Karen Dorsainville, Faith Academy
Charis Riley, Sumner Academy of Arts & Science
Shemaya Moses, West Middle School
Posted by Isaac on Wednesday, October 29th, 2014 @ 9:26PM
Categories: News