DKC City Championship Begins with a Bang
DEBATE-Kansas City held the first leg of its annual City Championship December 1st, 2012 on the campus of UMKC. Teams from across the city gathered to debate about the United States' transportation policy. The headline was a surprising victory by first year debaters in the varsity pool, a victory that a had an element of karmic justice. This first wave of the DKC City Championship features only high school policy debate. All middle school debate and high school student congress will be held in February.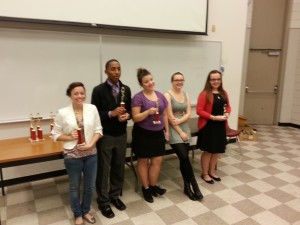 The Lincoln Prep Tigers dominated the varsity field as they won the top three policy debate team spots, but the surprise was which Lincoln duo became crowned champions. The first year team of Monica Propst & Ellen Baker won first place in varsity policy debate, which earns them a trip to the National Urban Debate League Championship held this April in Washington D.C. If the name Monica Propst is familiar, it's because she was the only person in DKC history to win first place at every DKC middle school tournament, a feat she accomplished last year while debating at Foreign Language Academy (FLA).
This win is particularly sweet because last year Monica and several of her FLA teammates planned to compete at the Junior Speech and Debate Nationals, but were denied due to a shortage of funding. One of those FLA teammates was Monica's new policy partner Ellen Baker. Now their fortunes have changed and they have earned an all-expense trip to debate nationals in D.C. It is important to note that these two young women, Monica Propst & Ellen Baker, had a difficult path to victory. Not only did they win all four of their debates, they were also highly rated speakers with Monica capturing the top speaker and Ellen placing fifth. The second (Corey Fisher & Jared Freemon) and third place (Frankie George & Hannah Rose Kennelly) teams from Lincoln had been favored to earn the top spot, both being previous national qualifiers, but the first year debaters pulled a classic upset on the strength of strong speaking. In the novice division, the final round was between the teams of Zakiyah Allah & Demetrius Sterling from University Academy (UA) and Lason Smead & Jakob Levine from Patton Jr. High.
The final debate was judged by a panel of five debate experts that voted gave University Academy a decisive 4-1 victory, though the judges noted that the final vote tally did not reflect the closeness of the debate. The University Academy win was no surprise to those who know their new coach; DKC Hall of Famer Jane Rinehart. After a three year break she has returned to bring debate back at UA.
"I knew once Mrs. Rinehart was coaching at UA, it was only a matter of time before they started winning tournaments," said Marcus Leach, DKC Board member and former student of Mrs. Rinehart.
The DKC City Championship is a special weekend where the DKC league comes together for some fierce competition and fellowship. This year was no exception. But a tournament requires more than debaters, it also needs judges and DKC would like to thank its many judges and supporters for making the weekend a great success. Results: Varsity Speakers
Lincoln College Prep, Monica Propst
Lincoln College Prep, Jared Freemon
Lincoln College Prep, Frankie George
Lincoln College Prep, Hannah Rose Kennelly
Lincoln College Prep, Ellen Baker
Varsity Teams
Lincoln College Prep, Monica Propst Ellen Baker
Lincoln College Prep, Jared Freemon & Corey Fisher
Lincoln College Prep, Frankie George & Hannah Rose Kennelly
Novice Teams
University Academy, Zakiyah Allah & Demetrius Sterling
Patton Jr. High, Lason Smead & Jakob Levine
Patton Jr. High, Alex Konczkey & Maddie Baker
University Academy, Raven N evels & Shawndra Magee
Novice Speakers
Patton Jr. High, Summer McGowan
University Academy, Shandrea McGee
Patton Jr. High, Lawson Smead
Wyandotte, Gary Bradley Lopez
University Academy, Demetrius Sterling
Posted by Isaac on Thursday, May 30th, 2013 @ 8:02PM
Categories: News