DEBATE-KC Represents at NSDA Nationals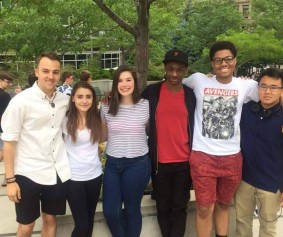 DEBATE-Kansas City (DKC) middle and high school students competed at the National Speech and Debate Association (NSDA) National Championship Tournament June 13-17 in beautiful Salt Lake City, Utah. Students from Sumner Academy and Lee A. Tolbert Community Academy (LATCA) did a great job representing Kansas City. Alex Trobough of Sumner placed 13th in United States Extemporaneous Speaking and his teammate Michael Franklin advanced to the semi-finals of Student Congress, as did De'Na Newborn of LATCA in the junior division.
Though the tournament began in June, preparation began much earlier. DKC was able to hold three workshops at the UMKC debate house for seven youngsters from LATCA thanks to support from the Mentors Foundation. Their support and DKC volunteers created one-to-one mentor to student ratio. Each student was given attentive feedback to make them feel ready for national competition, and it paid off. LATCA's De'Na Newborn, in her third trip to Junior Nationals, was able to advance all the way to the top 20 in Student Congress, quite an impressive feat.
"The practices with DKC helped our students a lot," said LATCA Coach Bill Lindsey. "We had 30 topics to prepare for in congress, which made the support from DKC staff and volunteers a big deal."
The debate team at LATCA was led by DKC Hall of Fame Coach Bill Lindsey and he has organized a nationals trip for his students the last five years. DKC provides support for each year trip and this year was aided by the Mentors Foundation, but Mr. Lindsey does most of the heavy lifting in raising funds for the trip. He gets parents, students and supporters to work all year to cover the cost of nationals and his debaters love him for it.
This year's trip included four parent chaperons and two debate mentors, Thalia Hernandez and Alex Chang. These mentors helped students each day prepare for and make it through the competition. They were also present for the nationals practices and build a bond with the LATCA students. The LATCA students selected to for the trip had to meet guidelines that required excellent grades, outstanding behavior, diligent preparation and proven success at regular season competition.
The students from Sumner, meanwhile, faced different challenges earlier in the season that prepared them for nationals. At the middle school level, tournament entries are open to those who can afford or fund-raise for the trip, but in high school, students must qualify for nationals by placing high at a fiercely competitive district tournament.
"Sumner has been incredible at qualifying students to NSDA Nationals each year under Coach Jamelle Brown," said Gabe Cook, DKC's Executive Director. "And they don't just qualify to nationals, they go expecting to compete for a national title."
Alex Trobough of Sumner came very close to reaching the title round of U.S. Extemporaneous Speaking, eventually bowing out in the semi-finals and placing 13th in the country. To get there, Alex had to advance through several rounds of competition against the best speakers in the country.
Achieving in speech and debate is not new to Alex Trobough. He was a rare four-time qualifier to the NSDA Nationals, and last year with Mylan Gray he placed second in policy debate at the Urban Debate Nationals. This fall he is headed to Harvard with a bright future.
Alex was not the only Sumner competitor to make noise at the NSDA. Michael Franklin advanced all the way to the semi-final round of Student Congress, a very significant accomplishment. Both Marley Lowe and Suan Sonna advanced into late competition rounds of their supplemental/consolation events. And, Mrs. Brown, another DKC Hall of Fame Coach, was even selected to judge the final round Duo Acting.
Overall, both schools had a great time and great performances. The NSDA Nationals is the largest academic competition in the world and competitors come from all as far away China. Students meet new people, see new places and make memories that last a lifetime. For younger competitors, the experience can be a motivator to work hard so they get to come back again.
Posted by Isaac on Monday, August 8th, 2016 @ 4:53PM
Categories: News