DEBATE-KC Holds Best Summer Debate Camp Yet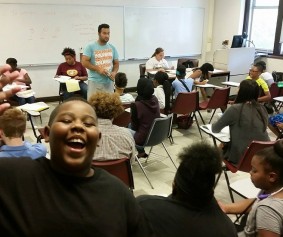 DEBATE-Kansas City (DKC) provided 35 students access to a free one week Summer Debate Camp on the University of Missouri Kansas City (UMKC) campus. The camp was supported by the Mentors Foundation and over 20 Go Fund Me donors listed at the end of this article. At camp students were provided training from debate experts, guest presentations, lunch, debate files, plenty of time for fun and a camp tournament on the last day.
"DKC's Summer Debate Camp was so beneficial," said Savannah Miller of Sumner Academy, who was the top speaker in the camp tournament. "This year was my first year at camp and it helped me understand Sino-American relations, but it also helped me make new friends! I should have gone to camp my sixth grade year!"
Debate camp is a busy week and intense at times, but it's rewarding and students get plenty of time for summer fun and games. The most popular game for two years running has been "ball". Students toss a large red ball in a circle, and if you drop it, you are out. Except when you aren't. It was more about fun and having an outlet after spending hours learning about debate and new words like Sino, which is another way to say Chinese.
Students across the country will be debating about whether the United States should increase its engagement with China this season. DKC students will be focused specifically on whether the U.S. should lift its current ban on space cooperation with China. Campers not only had to learn about China and space, but the basics of debate. Fortunately, DKC had an excellent mix of experienced staff and mentors.
DKC staff and two additional debate experts ran the camp, but they were not the alone. DKC began a Fellows program where junior and senior debaters attended to mentor younger debaters. The five Fellows at this year's camp were also given opportunities to work on advanced debate arguments. And one, DKC intern Jillian Jetmore, made an awesome camp video.
"This was the best camp we've held," said Gabe Cook, DKC's Executive Director. "We found a good rhythm to each day, knowing when the students needed breaks. And we had a dynamic learning environment where we tackled the challenge of academic debate together, rooting for each other along the way."
One the second to last day, a Debate Camp Olympics was held featuring a variety of games, such as reading evidence as fast as possible and a product pitch where students invented new uses for a common object in the room, and then tried to sell it to a judge. Students were randomly placed in four teams to compete in five events. The team with highest total score won and received a nice haul of candy to celebrate their victory.
The last day was all about the camp tournament. Fourteen teams entered and debated two rounds. The top four teams advanced to semi-finals and those winners advanced to the final. The winner of the final round was Savanah Miller of Sumner Academy and Jacob Esquvel from the Kauffman School. They defeated De'Na Newborn of Lee A. Tolbert and Malia Taylor, also from the Kaufmann School. Additional semifinalists included Donavan Herron & Payton Earle from the Kauffman School, and Cyra Chronister from Turner paired with Ian Rouse of the Kauffman School.
DKC's Summer Debate Camp was rewarding for everyone involved and it helped 35 students get better at academic debate. The skills they learned should translate into a head-start on the quickly approaching competitive debate season. DKC thanks the volunteers who came to judge at the camp tournament, and the generous donations from the Mentors Foundation and Go Fund Me. Those donors are listed here:
Legend:
Katherine Fitzpatrick, Jeffery Floyd, Christie Meller, Elizabeth Rosin, Andy Atkins, Ellen Suni, Jennifer Underwood and Ben and Astrid Villamil Warner.
Champion:
Angel Tucker, Clay Crockett, Young Han Lester, Zachary Brown, Kimberly Allen, Angela Prasad, Todd Jordan, and Michael Thomas.
Varsity:
Chebet Buckner, Kelly Lynch, Jeffery Floyd, Charlotte Goebel, Kian Byrne, Leigh Keck, Brandon Wood and Leigh Patterson.
Junior Varsity:
Fatima Cundiff and Terrie Miller.
This year's campers thank you!
Posted by Isaac on Wednesday, August 17th, 2016 @ 12:33AM
Categories: News