Second Semester Fire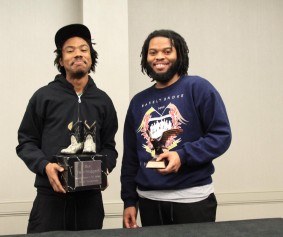 In 2013 DEBATE-KC graduate Ryan Wash joined with Elijah Smith mid-season to begin the greatest single semester run in college policy debate history.  It culminated with Ryan and Elijah becoming the first policy debate team to ever win both national tournaments in the same year for Emporia State. Now, DKC graduate Corey Fisher teamed-up Anthony Joseph at UMKC to start an amazing run of their own. They began the second semester by winning three straight debate tournaments and they have hopes of challenging for a championship.
Corey and Anthony debated together for the very first time at the Texas Swing Policy Debate Tournament this January. Teams from across the country descend on Texas over winter break to compete in back-to-back tournaments. In the history of the Texas Swing only one school had ever won both of the tournaments in the same year, and it just happened to be UMKC in 2007.
"It's impressive to bring the boots back home to UMKC," said UMKC Assistant Debate Coach, Malcom Gordon. The team that wins the most rounds combined in the two tournaments gets awarded "The Boots", a traveling trophy made from a small pair of boots. Corey and Anthony won 13 of their 14 rounds at the two tournaments and easily won the Texas prize. "UMKC is the only school in the country to do it multiple times. It feels good to have the boots back in Kansas City," said Coach Gordon.
Not only did they win both tournaments, Corey was also named top speaker at both tournaments and Anthony was the second speaker at the second swing. They repeated this exact feat a few weeks later at the Bear Claw Debate Tournament at Wichita State University.
When asked how he felt about all this success Anthony Joseph said, "It felt good. Real good. And debating with Corey was just easy, a natural fit." Mr. Joseph recently transferred to UMKC to debate with Mr. Fisher. "We won our first three tournaments together I think that's a sign of good things to come."
Corey Fisher for his part is taking it all in stride. "It feels gratifying to win so many rounds, we just have to keep it up the rest of the year." Over winter break the pair envisioned this kind of success and they worked hard to start second semester with a bang. By winning three straight tournaments they sent a message that they are a team on the rise.
Anthony and Corey continued their season debating at the last major national tournament of the season, also held in Texas and during the weekend of the Super Bowl. They advanced to the top sixteen and beat some quality opponents along the way. After the Texas tournament they were placed 13th on a national team ranking, which is a quite a feat considering the duo didn't debate together first semester. Now they have districts and then it's the last two tournaments of the year, where champions will be crowned.
Ryan Wash and Elijah Smith united the championship crowns their senior year by winning both the Cross Examination Debate Association National Championship and National Debate Tournament Championship in the same year. Corey and Anthony have already won the boots. Could their second semester include a championship run? We will find out starting this March, and regardless, they've already achieved more than most college debate teams by winning three straight tournaments.
When ask if he had any advice for a kid coming-up in DKC he said "Eat your vegetables, do drills, practice hard and you will find success."
Posted by Isaac on Tuesday, February 16th, 2016 @ 6:03AM
Categories: News