Washington Hosts Second DKC High School Tournament
Washington Hosts Second DKC High School Tournament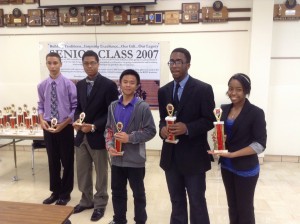 October 29th – The DEBATE-Kansas City tournament season is well underway and participation is growing. Washington High School hosted the second DKC high school tournament of the season, which was twice as big as the same tournament last year. In novice policy debate the field was almost three times as large as the year before.
"Growth in participation is great to see we look forward to having one of the best seasons in recent DKC history," said DKC Porgram Coordinator Isaac Allen.
The competition was tough as usual. In the open division Lincoln Prep's Frankie George took home the top speaking honors for the second straight tournament in varsity policy debate, while her teammates Monica Propst and Ellen Baker won first place varsity policy debate team.  In novice policy debate Sumner Academy is proving themselves tough competition with Marley Lowe winning top novice speaker, and the squad earning 4 out of 5 novice team awards. Sumner also placed four of the top five student congress competitors and won first place in sweepstakes.
A full list of results is below:
Top 5 Novice Policy Debate Speakers
Sumner Academy, Marley Lowe
Washington High School, Deanna Daniels
Sumner Academy, Valeria Munoz
Sumner Academy, Faith Davis
F.L. Schlagel, Averie Gomez-Franklin
Top 5 Novice Policy Debate Teams
Sumner Academy, Valeria Munoz and Jasmine Brown
Washington High School, Deanna Daniels and Faith Johnson
Sumner Academy, Gilberto Perez and Faith Davis
Sumner Academy, Shaun Hanson and Ian Pack
Sumner Academy, Ajhanae Franklin and Terrence Pledger
Top 5 Open Policy Debate Speakers
Lincoln College Prep, Frankie George
Lincoln College Prep, Monica Propst
Lincoln College Prep, Chebet Buckner
Lincoln College Prep, Ellen Baker
Lincoln College Prep, Jorge Lopez
Top 5 Open Policy Debate Teams
Lincoln College Prep, Monica Propst and Ellen Baker
Lincoln College Prep, Jill Sojourner and Frankie George
Lincoln College Prep, Chebet Buckner and Ashlin Vasquez
Washington High School, Willie Tolon
Lincoln College Prep, Jorge Lopez and Adrian Ruiz
Top 5 Student Congress
Sumner Academy, LaTara Demery
Center High School,  Malik Burton
Sumner Academy, Ben Franco
Sumner Academy, Michael Franklin
Sumner Academy, Thalia Hernandez
Sweepstakes Awards
Sumner Academy
Washington High School, Wyandotte High School & Center High School (tie)
Posted by Isaac on Tuesday, November 12th, 2013 @ 5:40AM
Categories: News