Send DEBATE-KC to the Dowling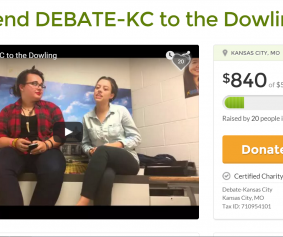 DEBATE-Kansas City (DKC) started a Go Fund Me to raise $5,000 to provide lodging and competition fees for 30 students from city schools to attend the prestigious Dowling Catholic Paradigm speech and debate tournament December 11-13, 2015 in Des Moines, IA. So far we have raised nearly $1,000 and have secured a limited entry for two DKC schools. We have one more week to raise funds so that more students from more schools can make the trip. If you would like to read more about the trip and consider donating visit our Go Fund Me. Many people have already donated and we would like to thank each and every one of them.
DKC Thanks Go Fund Me Supporters.
Champ ($250 and above)
Still waiting. It could be you!
Varsity ($50 and above)
Brad Thomas
David Budinger
Rachel Thompson
Jason Edgar
Darrell Hyche
Serena Richardson
Andy Atkins
Elizabeth Rosin
Art Delgado
Christine Taylor-Butler
Junior Varsity ($25 and above)
Jan Kohl
Meggie/Mike
Linda Innes
Michael Russo
Amanda Ozaki
All Others
Billy Brame
Parker Mitchell
Katrina Gibbs
Courtney
Gary Owens
Posted by Isaac on Monday, November 9th, 2015 @ 8:18PM
Categories: News