SEASON OF SUCCESS HONORED AT DKC AWARDS NIGHT CELEBRATION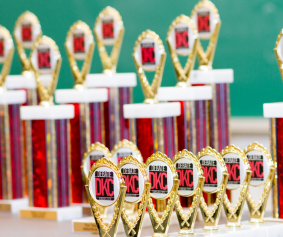 DEBATE-Kansas City (DKC) students, coaches and supporters gathered at the Kauffman Center on May 5th to recognize achievement in debate at the annual DKC Awards Night Celebration sponsored by UMKC Communication Studies. DKC's Executive Director Gabe Cook opened the night with an impressive list of DKC accomplishments, most notably that participation in the league has grown 150% over the past three years.
DKC recognized its coaches with yearly awards and added a new member to its' Coaches Hall of Fame. Jamelle Brown of Sumner Academy was inducted as the third member of DKC's Hall of Fame because of her many achievements that include being named: the National Milken Educator Award, Sumner Academy Teacher of the Year and Kansas City, KS District Teacher of the Year. She has coached four Kansas State Forensics Champions, the 2015 Kansas State Debate Champions, two NCFL Speech Finalists and the 2015 runner-up team at the Urban Debate Nationals.
In her acceptance speech Ms. Brown asked those in attendance, especially students, to call into question society's BS – and by that she meant society's belief system. Ms. Brown said that you must protect your values by recognizing when society's BS threatens them, and to never let others dictate your belief system for you.
The evening included two student debate performances and one featured four of the six top speakers from the 2015 Urban Debate Nationals. Ellen Baker & Monica Medeiros of Lincoln Prep, who finished third place at this year's Urban Debate Nationals, debated Mylan Gray & Alex Trobough of Sumner, the runners-up at the national tournament. The teams squared-off in a debate over the best method to create positive change in the struggle against oppression.
Middle school debaters simulated the event of Student Congress and those performers included: De'na Newborn & Marquies Johnson (LATCA), Yusuf Khan (Smith-Hale), Ethan Maxey (Turner) and T'Khara Jones (Arrowhead). The students debated whether not the government should invest in a technology to collect and reduce the amount plastic that has gathered in the oceans.
Much of the evening was spent honoring the hard work of DKC's students. DKC keeps updated Power Rankings that order students based on their results at DKC tournaments. Those that place on the final rankings attend the Awards Night and receive recognition. The full list of winners can be found here.
DKC also renamed its' volunteer award to the Aaron Thomas Volunteer of the Year. Aaron was a DKC graduate and longtime volunteer who tragically passed on New Year's Day this year. Aaron Thomas debated at Central under Hall of Fame Jane Rinehart at KC Central and later at Kansas City, KS Community College. In its' first year the award was given someone who was mentored by Aaron, Corey Fisher, a current UMKC debater and Lincoln Prep graduate. Corey traveled to tournaments, visited practices and even provided long distance video support.
DKC also named Mylan Gray of Sumner Academy its' Melvin B. Tolson Senior Award winner. Mylan Gray has been with DKC since middle school and found an incredible amount of success in speech and debate. Mylan was on the Sumner team that placed second at UDL Nationals, became DKC's first student to qualify to the National Speech and Debate Association championships (NSDA) in Student Congress, competed at NSDA Nationals in Extemporaneous Speaking, won a Kansas State Championship in policy debate, advanced to elimination rounds at the Catholic National Forensic League championship and is headed to Stanford for college next year.
Overall, DKC had one of its most successful seasons and the Awards Night was a wonderful opportunity to thank those who support DKC. UMKC Communication Studies was the night's sponsor and UMKC provides year-round support to DKC. In addition, DKC thanks Matthew Vega for filming special interviews before the celebration and the program itself.
Posted by Isaac on Monday, June 1st, 2015 @ 10:59PM
Categories: News