Middle School Season Continues at Northwest and Kauffman School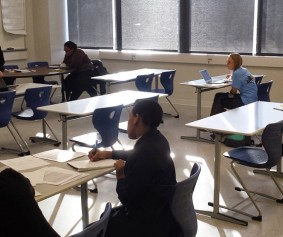 The week of February 9th – 14th, 2015 DEBATE-Kansas City held middle school tournaments at Northwest and the Kauffman School as part of DKC's weeknight tournament series. Combined over 300 students competed at the two events in both policy debate and student congress.
At Northwest head coach Monica Young arranged a special karaoke session during tabulation in the school cafeteria. With song texts on multiple screens hundreds of students were able to sing along to popular songs in between bites of pizza. Meanwhile, the new Kauffman School was beautiful and the judging pool was filled with several members of the Lincoln Prep debate team along other area high school debaters happy to give back by judging younger debaters. Full results and pictures are below.
Results for Northwest
Novice House A
Turner Middle School, Ethan Maxey
Turner Middle School, Michelle Smith
Argentine Middle School, Monet Spencer
Foreign Language Academy, Anana Nureini
Turner Middle School, Sabrina Whalen
Novice House B
Foreign Language Academy, William White
Foreign Language Academy, Maya Keeney
Lee A. Tolbert Community Academy, Brandi Burton
Argentine Middle School, Trevion Batts
Northwest Middle School, Janiyah Tadlock

 
House A
Smith-Hale Middle School, Yusuf Khan
Coronado Middle School, Jose Ramirez-Lopez
Smith-Hale Middle School, Andrew Frazier
Sumner Academy of Arts & Science, Leon Brown, Jr.
Coronado Middle School, Aubrey Her

 
House B
Arrowhead Middle School, Katie Hogue
Sumner Academy of Arts & Science, Faith Brownell
Lee A. Tolbert Community Academy, De'na Newborn
Sumner Academy of Arts & Science, Adriana Suarez
Northwest Middle School, Micah Emery
House C
Smith-Hale Middle School, Ka'Vahseion Cheadle
University Academy Middle School, Joardy Looney
Northwest Middle School, Le'Andrea St Clair
Smith-Hale Middle School, Dionna Moore
West Middle School, Jonah Andrews
House D
Lee A. Tolbert Community Academy, Marquies Johnson
Sumner Academy of Arts & Science, Timothy McLaughlin
Arrowhead Middle School, T'Khara Jones
Foreign Language Academy, Henry Valdivia
University Academy Middle School, ShaKara McCalley

 
Novice Policy Speakers
Foreign Language Academy, Carina Martinez
Barstow School, Emma Jenkins
Barstow School, Tyler Sabapathy
Barstow School, Aasim Hawa
Sumner Academy of Arts & Science, Kasey Romo-Nieves
Novice Policy Teams
Foreign Language Academy, Carina Martinez and Martha Delatorre
Barstow School Aasim Hawa and Miles Luce
Argentine Middle School, Arleth Ramos and Elizabeth Walters
Barstow School, Zoe Brous and Emma Jenkins
Barstow School, Luke Lapatofsky and Tyler Sabapathy

 
Open Policy Speakers
Barstow School, Kristin Tingle
Barstow School, Sam Short
Foreign Language Academy, Andrew Valdivia
Barstow School, Taha Fanaswala
Coronado Middle School, Ashlynn Freeman

 
Open Policy Teams
Foreign Language Academy, Sam Keeney and Andrew Valdivia
Barstow School, Paul Case and Sam Short
Barstow School, Hannah Tadros and Julia Butch
Foreign Language Academy, Monica Bates and Aaron (Max) Baker
Barstow School, Kristin Tingle and Tyler Durwood

 
Team Sweepstakes Award
Foreign Language Academy
Sumner Academy of Arts & Science
Barstow School

 
Results for Kauffman School
House A
Lee A. Tolbert Community Academy, Marquies Johnson
Faith Academy, Sequoia Wilson
Lee A. Tolbert Community Academy, De'na Newborn
Faith Academy, Kirsten Jackson
Faith Academy, Nicholas Baker

 
House B
Lee A. Tolbert Community Academy, Erika Scott
Rosedale Middle, Kassandra Guerra
Faith Academy, Aliyah Webb
Lee A. Tolbert Community Academy, Mariyah Haliburton
Faith Academy, Karen Dorsainville

 
Top 3 Varsity Speakers
Foreign Language Academy, Sam Keeney
Foreign Language Academy, Andrew Valdivia
Alta-Vista Middle School, Jeseka McDaniel

 
Top 3 Novice Speakers
Kauffman School, Marc Hill
Kauffman School, Donovan Herron
Lee A. Tolbert Community Academy, Dacoda Sublett
Posted by Isaac on Friday, February 20th, 2015 @ 5:15PM
Categories: News