Lincoln College Prep Policy Debate Duo Honored by Mayor James & City Council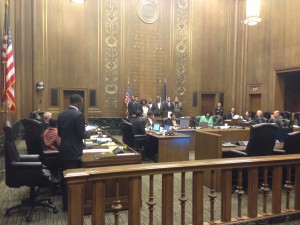 On March 2nd, 2013 Corey Fisher and Jared Freemon became the first policy debate team from Lincoln College Preparatory Academy to earn a bid to the National Forensic League (NFL) Tournament. The prestigious tournament has been held since 1931 and this June will be in Birmingham, Alabama.
In honor of the Lincoln Prep debate team's historic accomplishment and their many years of hard work in the DEBATE-Kansas City (DKC) urban debate league the students, their coaches and DKC staff were recognized by Mayor Sly James through a proclamation delivered at City Hall on March 21st. (Click on the picture to see NBC News coverage).
"We are honored to receive recognition from the Mayor, and elated that achievement in debate has the attention of our leaders," said Gabe Cook, Director of DKC. "Corey and Jared have been part of our program since middle school and to see them develop into elite debaters and make history for Lincoln Prep is just thrilling for everyone involved."
The significance and history of the accomplishment was not lost on Corey Fisher. "Qualifying for the national tournament has been my goal since 8th grade," said Corey. "I didn't ever even know we were the first from our school to qualify until the awards presenter announced it. That is the type of moment you never forget, a day of history. There isn't anything I'd trade that moment in for."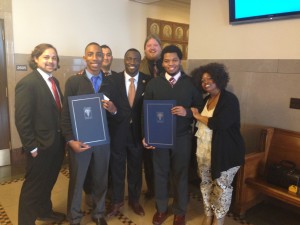 Jared Freemon was also excited to see the hours of after school debate practice pay off. "After working hard for the last few years, this is an excellent way to conclude our senior year in debate," said Jared. " I still am unable to fathom the fact that we are making history by being the first team to represent Lincoln Prep at NFL. We have to thank DEBATE-Kansas City and everyone who has contributed to our success in the last four years."
The Lincoln Prep students are also allowed to invite to special guests. To recognize their achievement Lincoln Prep's Principal Jon Richard, who has been instrumental in supporting the team all year, will be one of those special guests.
Posted by Isaac on Thursday, May 30th, 2013 @ 8:09PM
Categories: News