Junior Nationals Preparation Underway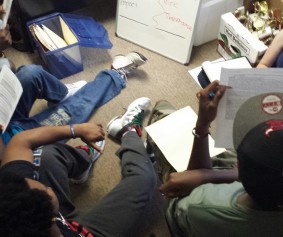 The largest academic competition in the world is coming to the Kansas City area June 15-20 and more than 50 DEBATE-Kansas City students are preparing to compete. The National Speech and Debate Tournament (NSDT) will have over 4,00 middle and high school competitors from across the world.
With the tournament just a week away DKC's focus is now on student preparation. DKC provided its middle school student congress competitors a 250 page research file on event topics while DKC mentors have helped hone policy debate strategies. Additionally, DKC is hosting weekly open practices at the UMKC debate house that will cap with a Prep-Rally June 17th.
"We knew with school out for the summer that our students would need a place to practice and this way they could all come together," said Isaac Allen, DKC;s Program Director. "Our first practice had nearly 20 kids and we got in a dozen practice speeches, spent time preparing off-case policy arguments and ate about seven Waldo pizzas.The debate house gets a touch crowded but its an exciting atmosphere."
DKC mentors played a huge role in the preparation. DKC graduates Shawnee Brunson and Corey Fisher are taking young policy debaters under there wing. Ms. Brunson even assembled preparation packets for all the debaters. Both competed at national tournaments during their time at DKC, which gives them knowledge and experience to share. They also feel the need to give back and support DKC students the same way they were helped.
The tournament's backyard location presented a unique opportunity for DKC middle schools. For a high school student to qualify they must place very highly at their district tournament. For middle school students, however, all you need to do is find transportation and pay the entry fee.
The national tournament rotates locations and most years transportation and lodging costs are prohibitive for the vast majority of DKC middle schools. But not this year. With the tournament being held in Overland Park, KS the only significant costs were tournament fees, which DKC covered for nearly middle school 50 students from nine schools.
"Just a few years ago DKC finances might have prevented us from fully taking advantage of this opportunity," said Gabe Cook, DKC's Executive Director. "But thanks to increased from the community, a very generous grant from the Mentors Foundation, and increased support from our member schools, DKC was able to cover any middle school student wishing to compete."
The Mentors Foundation provided DKC membership for five DKC schools, including Foreign Language Academy (FLA), which has fourteen students competing at the national tournament. Without their support FLA students would not have been part of DKC, let alone competing at a national tournament. It is DKC's hope that this experience is a building block for future growth debate.
"Attending a national tournament can cement a students commitment to debate. National competition can be eye-opening and motivating," said Gabe Cook. "And students will remember the help they received, the challenge of the competition and become mentors in the future."
Graduates mentoring younger debaters is a critical part of DKC programming and this unique national tournament preparation is just another example. DKC graduates and area college debaters will also be judging for DKC schools, fulfilling an obligation to the NSDT.
Additionally, DKC high school students from Sumner Academy qualified to compete in forensic events at the NSDT. After winning the Kansas State forensic sweepstakes award two years in a row, and winning the forensics sweepstakes award at the National Catholic Forensic League tournament just a couple weeks ago, look for them to make their mark.
DKC has high hopes that students will bring home some national hardware, but regardless, the process of preparing for and competing at a national tournament will be invaluable for these young debaters.
Posted by Isaac on Tuesday, June 10th, 2014 @ 3:29PM
Categories: News