High School DKC City Champs 2015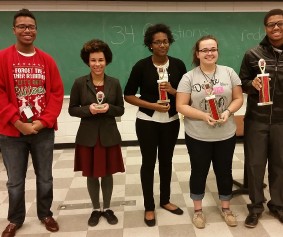 DEBATE-Kansas City held its annual City Championship featuring high school policy debate December 5th and 6th on the campus of University of Missouri Kansas City. Chebet Buckner of Lincoln Prep surprised the field in varsity policy debate by winning as a maverick and earned herself a bid to the Urban Debate Nationals in San Francisco, CA this April. Last year DEBATE-KC had the nation's best showing at the national tournament, winning second and third place and placing four of the top six speakers. With the maverick victory DKC will need to select three debaters to field two debate teams at the national tournament.
The City Championship featured novice, junior varsity and championship policy debate. Speaker awards were given in all divisions and students completed four preliminary rounds. The policy teams with the best records advanced to elimination rounds to determine the winner of each division. The full results are below.
2015 DKC City Championship High School 
Policy Debate Junior Varsity Team Awards
Lincoln Prep, Bianca Harvey and Anna Crawford
Lincoln Prep, Sakina Bhatti and Alex Thompson
Lincoln Prep, CB Cheyenne Clopton and Monica Bates
Blue Valley Northwest, Avni Kamat and Hannah Thurlby

 
Junior Varsity Top Speakers
Lincoln Prep, Alex Thompson
Lincoln Prep, Bianca Harvey
Lincoln Prep, Sakina Bhatti
Lincoln Prep, Anna Crawford
Lincoln Prep, Cheyenne Clopton
Policy Debate Novice Team Awards
Blue Valley No Neil Ahluwalia and Tommy Donovan
Blue Valley No Nikki Kanakadandila and Antonio Linhart
Lincoln Prep, Isabelle Fox and Noemi Bravo
Blue Valley Northwest, Akash Patel and Chris Quinn

 
Policy Debate Novice Speaker Awards
Blue Valley Northwest, Antonio Linhart
Blue Valley Northwest, Chris Quinn
Kauffman School, Jacob Esquivel
Blue Valley Northwest, Nikki Kanakadandila
Blue Valley Northwest, Tommy Donovan

 
Policy Debate Varsity Team Awards
Lincoln Prep, Chebet Buckner
Sumner Academy, Vanessa Obi and Michael Franklin

 
Policy Debate Varsity Speaker Awards
Sumner Academy of Arts & Science, Michael Franklin
Lincoln Prep, Ellen Baker
Lincoln Prep, Chebet Buckner
Sumner Academy of Arts & Science, Vanessa Obi
Wyandotte High School, Gary Bradley-Lopez
Posted by Isaac on Thursday, December 17th, 2015 @ 8:34PM
Categories: News