Help More Students Debate in Kansas City with Your Voice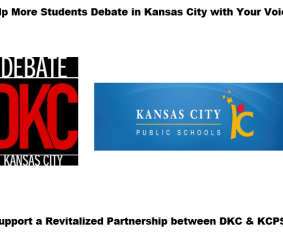 You can help give more students access to debate by sending an email to Kansas City Public Schools (KCPS) in support of DEBATE-Kansas City (DKC). Here is the  draft text for a DKC support letter that you can personalize and send to this email address. You can also attend a public meetings where KCPS is seeking community input on academics and extra-curricular activities. If you are a KCPS graduate or currently live in Kansas City, Mo. then your input is especially valuable.
UPDATE: New locations have been announced to replace the meetings that were canceled November 15th.
UPDATE 2: Compete a text survey to show you support. You will text 816-629-4365 and we suggest texting "A" to answser the first question (If you had $1 million to improve your school, how would you spend it? A- Academics, B- Athletics, C- Building, D- Information Technology (IT) or E- Other). The next question will be, "What are the most critical academic needs at your school?" We suggest answering "debate". We also suggest when asked of KCPS if moving in the right direction answering "no", which will prompt the question, "What  would KCPS need to do for you to answer Yes to the previous question?" Then we suggest answering with, "Restore support for debate." You can also take a longer survey here.
As you may know, DKC began in 1998 through a partnership with KCPS schools and UMKC, but recession caused KCPS to make budget cuts in 2011 and debate was a victim. The number of students debating declined 82% in one year and the few schools that kept programs have been heavily supported by DKC. Now we have an opportunity to revitalize the partnership by telling KCPS that we believe all middle and high school students in the district deserve access to debate.
KCPS is looking for community input at public meetings and via email. Voice your support for debate through email at masterplan@kcpublicschools.org or attend one of the meetings listed and new meetings. If you like, we have attached a letter you can easily personalize and email with the suggested subject line: Support DEBATE-KC.
We believe that all students deserve access to debate because of its academic benefits. If you agree, then please help by sending an email or attending a meeting, and please share this call for action with your friends.
Posted by Isaac on Thursday, November 20th, 2014 @ 8:49PM
Categories: News