Hallmark Sponsors First DKC High School Tournament at University Academy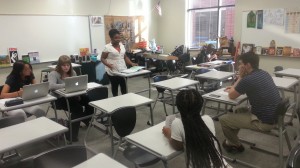 Hallmark Sponsors First DKC High School Tournament at University Academy
October 15 – For the second straight year Hallmark generously sponsored DEBATE-KC's season opening high school tournament at University Academy. Hallmark's sustained support helped grow the tournament, which was 25% larger than last year. Approximately 120 students from seven schools competed in policy debate and student congress.
The tournament featured an amazing judging pool that included college debate coaches, DKC graduates and college debaters. The head coach of  the junior college champion Kansas City Kansas Community College (KCKCC) squad, Darren Elliot, came and brought some of his debaters. Kansas University, the University of Missouri Kansas City and Missouri Western University also sent college debaters to judge. Several DKC graduates, including DKC Board member Brandon Dial, added to the top flight judging.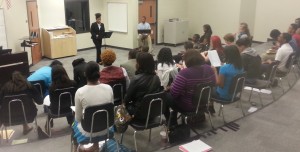 University Academy was an excellent host, which is to be expected since they are coached by DKC Hall of Famer Jane Rinehart.
"Hosting the first tournament can be difficult because new debaters are still learning how it all operates. Fortunately, we had an experienced coach in Jane Rinehart and financial support from Hallmark," said Gabe Cook, DKC's Director. "This allowed us to recruit judging of the highest caliber and keep everything on time."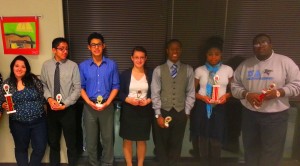 Sumner Academy had an excellent showing. They swept the top five places in student congress and won the overall sweepstakes award. The second place sweepstakes was a rare, unbreakable three way tie between University Academy, Lincoln Prep and Wyandotte.
DEBATE-Kansas City is grateful for Hallmark's sponsorship and excited by the growth in high school debate. The tournament entry included 30 novice teams, which is a good sign for the future. DKC's next weeknight tournament will be at Washington High School on October 29th and the entire DKC schedule can be found here.
The complete list of winners:
Novice Speaker Awards
Washington High School, Italia Cunningham
Patton Junior High, Lawson Smead
African Centered College Preparatory Academy , Precious Watson
Wyandotte High School  Cynthia Banuelos
University Academy, Kyndall Williams
Patton Junior High, Amaja Andrews
African Centered College Preparatory Academy, Tania Taylor
Novice Policy Team Awards
Patton Junior High, Ethan Reinhold and Tino Perez
Sumner Academy,  Aliyah Shaw and Ajhanae Franklin
Patton Junior High, Jada Berry and Amaja Andrews
Wyandotte High School, Marcellus Brown and Casey Khounvasa
Lincoln College Prep, Ashlin Vasquez and Anna Reynolds
Open Speaker Awards
Lincoln College Prep, Frankie George
Lincoln College Prep, Monica Propst
Lincoln College Prep, Ellen Baker
Wyandotte High School, Malavian Thammavongsa
Washington High School, Phillip Jones
Open Policy Team Awards
Lincoln College Prep,  Monica Propst and Ellen Baker
Lincoln College Prep,  Jill Sojourner and Frankie George
University Academy, Daniel Johnson and Kayla Gilmore
Lincoln College Prep, Adrian Ruiz and Jorge Lopez
Sumner Academy,  Ajla Racic and Chandler Herron
Student Congress Awards
Sumner Academy, Latara Demery
Sumner Academy, Michael Franklin
Sumner Academy, Thalia Hernandez
Sumner Academy, Alexis Fant
Sumner Academy, Marshall Allen
Sweepstakes Awards
Sumner Academy,
Three tied: University Academy, Lincoln College Prep and Wyandotte High School
Posted by Isaac on Tuesday, October 22nd, 2013 @ 1:09AM
Categories: News