Hallmark Sponsors First DEBATE-KC Tournament at University Academy
Hallmark sponsored DEBATE-Kansas City's (DKC) first high school tournament of the year at University Academy. Thanks to their support DKC was able to double the number of the tournament participants compared to last year as nearly 100 students competed in policy debate and student congress from seven area schools.
"We had a great tournament and a much needed sponsor. With school budgets' taking such hits over the last few years, community support is essential to providing KC youth access to academic debate," said DKC Director Gabe Cook.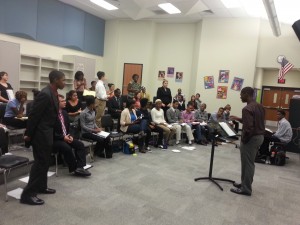 The tournament also marked a return for University Academy (UA) Head Coach Jane Rinehart. The former Central debate coach was hosting her first tournament in over two years, but as usual she ran a tight ship so that all rounds were completed on-time.
Lincoln College Prep took home the most individual trophies and the school sweepstakes award. Close on their tale was Sumner Academy and host University Academy. The high school tournament was more competitive and robust than any such DKC competition in over a year.
"It is nice to see debate growing again in the city, and that would not be possible without the generous donation by Hallmark. We have more talent and energy than we've had in a couple years," said DKC Program Coordinator Isaac Allen.
A student that reached special acclaim last year started another debate season on the winning track. Monica Propst, who won first place at every student congress event last year for Foreign Language Academy, switched over policy debate and captured a first place speaker award in the novice division. And with partner Ellen Baker, Ms. Propst also won the top policy debate team award.
Sumner Academy, meanwhile, turned in a dominant student congress performance and won four of the top five positions, which helped catapult them school to a second place sweepstake finish. The congress session was one of DKC's largest to date and likely the most competitive; over half the field had multiple years of experience in student congress dating back to their middle school days.
All told the Hallmark sponsored tournament at UA was a success. The season began with more entries, more enthusiasm and more resources thanks to the outstanding work of DKC coaches, the staff at UA and the support of Hallmark.
A full list of results is below.
Sweepstakes
Lincoln College Preparatory Academy
Sumner Academy of Arts & Sciences
University Academy
Novice Policy Debate Speakers
Monica Propst, Lincoln College Prep
Lawson Smead, Patton Junior High
Heather Pauley, Sumner Academy
Aminah Mohamed, Wyandotte High School
Alexes Salinas, Patton Junior High
Varsity Policy Debate Speakers
Jared Freemon, Lincoln College Prep
Frankie George, Lincoln College Prep
Corey Fisher, Lincoln College Prep
Taylor Stephenson, University Academy
Tierra Estes, Sumner Academy
Novice Policy Teams
Monica Propst & Ellen Backer, Lincoln College Prep
Heather Pauley & Ajla Racic Sumner Academy
Aminah Mohamed & Oshuntis Cross Wyandotte High School
Varsity Policy Teams
Jared Freemon & Corey Fisher, Lincoln College Prep
Frankie George & Rose Keneally, Lincoln College Prep
Taylor Stephenson & Kayla Gilmore, University Academy
Student Congress
Derrick Parker, Lincoln College Prep
Jessica Kile, Sumner Academy
Deonte Minor, Sumner Academy
Thalia Hernandez, Sumner Academy
LaTara Demery, , Sumner Academy
Posted by Isaac on Thursday, May 30th, 2013 @ 4:39PM
Categories: News