Hallmark Sponsored Tournament at University Academy Opens DEBATE-KC Season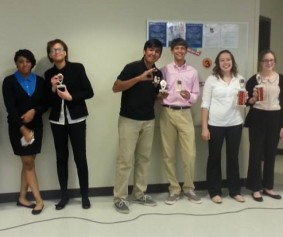 DEBATE-Kansas City's (DKC) competitive season began with the Hallmark Sponsored Tournament at University Academy (UA) on Tuesday, October 13th 2015. For the fourth straight year tournament entries grew. Over 160 debaters from twelve different schools competed in either policy debate or student congress. Hallmark began sponsoring the season-opening tournament in 2012 and since that time the tournament has more than tripled in size.
"Hallmark is proud to support this important program and these bright students.  The skills they learn in debate, like critical-thinking and creativity, help them get ahead and stay there," said Cora Storbeck, Vice President of the Hallmark Corporate Foundation.
The entry growth at the Hallmark sponsored season-opener has mirrored overall participation growth in DEBATE-KC's league. DKC's high school league in particular has doubled in size over the past three years and membership has now reached 18 area schools.  At the Hallmark tournament DKC had more student congress entries than ever before and in policy debate every division – novice, junior varsity and varsity – had a robust number of entries. This is a good sign for the future of the league.
"Demand for debate in Kansas City schools has never been higher. We need more sponsors like Hallmark so we can make sure ever aspiring debater has access to the resources they need to compete and win," said Gabe Cook, DKC's Executive Director.
The tournament itself went remarkably smooth. Rounds began on-time and the awards ceremony ended early. Both are rarities at debate tournaments. DKC had robust support from volunteer judges, which was greatly appreciated, and the UA facilities and staff created an excellent atmosphere. Plus, host school University Academy is led by DKC Hall of Fame coach Jane Rinehart, which meant any problem big or small was quickly fixed.
After two rounds DKC compiled results for three division of policy debate and two rooms full room of student congress. Sumner Academy had the best showing and took first place in school sweepstakes by a good number of points. Lincoln Prep and affiliate newcomer Blue Valley Northwest rounded out the top three in team sweepstakes points. The full winners list is below.
University Academy Award Winners
Novice Speakers
Junior High, Emily Gamble
Center High School, Kale Searcy
University Academy, Alexis Tolbert
Washington High School, India Conway
Junior High, Sarah Perdue
Novice Teams
Junior High, Kate Bircher and Sarah Perdue
Washington High School, Ronasia Simmons and India Conway
Center High School, Johnny Tancredi and Kale Searcy
Kauffman School, Maleah Taylor and Asia Abernathy
University Academy, Alexis Tolbert and Blake Norton
JV Speakers
Lincoln Prep, Anna Crawford
Blue Valley Northwest, Moneeb Choudhry
Blue Valley Northwest, Arvind Shankar
Blue Valley Northwest, Anna Cowden
Lincoln Prep, Bria Walters
JV Teams
Blue Valley Northwest, Arvind Shankar and Will Zhuang
Lincoln Prep, Anna Crawford and Bianca Harvey
Blue Valley Northwest, Caitlyn Hager and Anna Cowden
Blue Valley Northwest, Moneeb Choudhry and Neil Ahluwalia
Lincoln Prep, Bria Walters and Cheyenne Clopton
Varsity Speakers
Sumner Academy of Arts & Science, Royal Sullivan
Lincoln Prep, Chebet Bucker
Wyandotte High School, Gary Bradley-Lopez
Varsity Teams
Lincoln Prep, Chebet Bucker and Xochitl Tapia
University Academy, Brandon Fields
Sumner Academy of Arts & Science, Royal Sullivan and Michaela Charles
Congress House A
Sumner Academy of Arts & Science, Suan Sonna
Sumner Academy of Arts & Science, Michael Franklin
Sumner Academy of Arts & Science, Koleton Krueger
Center High School, Eriona Tate
Sumner Academy of Arts & Science, Jovanna Joyce
Congress House B
Sumner Academy of Arts & Science, Marley Lowe
Sumner Academy of Arts & Science, Savannah Miller
Sumner Academy of Arts & Science, Jasmin Arthur
Sumner Academy of Arts & Science, KaeShawn Smith
Sumner Academy of Arts & Science, Jacquelyn Williams
Sweepstakes
Sumner Academy of Arts & Science
Blue Valley Northwest
University Academy
Posted by Isaac on Friday, October 30th, 2015 @ 4:49PM
Categories: News