Final Power Rankings for 20013-14 Season!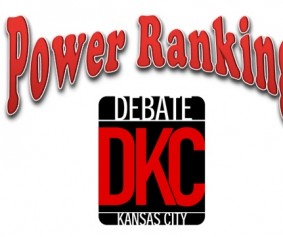 DEBATE-Kansas City is proud to release our final round of DKC Power Rankings for the 2013-14 season. Students recognized in the Power Rankings have earned their place through sustained success at debate tournament competition this season. All DKC tournaments, which include the events of policy debate, student congress and equity debate, are managed through a computer program that creates season-long rankings. DKC publishes these rankings to recognize and motivate academic achievement in debate. All students listed in the Power Rankings are invited to attend the annual DKC Awards Night Celebration May 6th, 2014 at the Kauffman Conference Center where they will receive an award and recognition.
We made one change to this year rankings. Instead of awarding policy debate teams for the most wins, we are awarding individual debaters. This change was made partially because partner switching is common and makes calculating team based awards difficult. Additionally, DKC has a history of mavericks who only generate individual wins. We think the new ranking best reflects debater achievement in DKC.
Middle School Student Congress
Sumner Academy of Arts & Science, Colin Barnes
Sumner Academy of Arts & Science, Areli Lopez
Sumner Academy of Arts & Science, De'Auan McClaine
Arrowhead Middle School, T'Khara Jones
Coronado Middle School, Savannah Miller
Lee A. Tolbert Community Academy, Devon Dawkins
Lee A. Tolbert Community Academy, De'na Newborn
Hickman Mills Junior High, Muhammad Aadil
Sumner Academy of Arts & Science, Koleton Krueger
Sumner Academy of Arts & Science, Leon Brown
Foreign Language Academy, Maggie Crawford
Arrowhead Middle School, Phillip Hayes
Arrowhead Middle, Piper Allen
Sumner Academy of Arts & Science, Latitia Murdock
Turner Middle School, Santina Hernandez
Foreign Language Academy, Taylor Corn
Lee A. Tolbert Community Academy, Logan Bates
Central Middle School, Brandon Cummings
Coronado Middle School, Khatiya Hooks
Smith Hale, Yusuf Khan
High School Student Congress
Sumner Academy of Arts & Science, Latara Demery
Sumner Academy of Arts & Science, Michael Franklin
Sumner Academy of Arts & Science, Thalia Hernandez
Sumner Academy of Arts & Science, Marshall Allen
Washington High School, Kylah Owens
Center High School, Abel philemon
Sumner Academy of Arts & Science, Alexis Fant
Lincoln College Prep , Jasmine Clark
Wyandotte High School, Gary Bradly Lopez
Lincoln College Prep, Derek Parker
High School Novice Policy Debate Speakers
Sumner Academy of Arts & Science, Aliyah Shaw
African Centered College Preparatory Academy, Freshelle Asberry
Washington High School, Akia White,
Patton Junior High, Ethan Reinhold
Washington High School, Faith Johnson,
African Centered College Preparatory Academy, Precious Watson,
Patton Junior High, Maury Yearby
African Centered College Preparatory Academy, Nasia King
African Centered College Preparatory Academy, Tania Taylor
Wyandotte High School,  Cynthia Banuelos,
High School Novice Policy Debate Wins
Sumner Academy of Arts & Science, Aliyah Shaw
Lincoln College Prep,  Adrian Ruiz
Lincoln College Prep,  Jorge Lopez
Lincoln College Prep,  Akot Riak,
Lincoln College Prep,  Chebet Buckner
Washington High School, Elizabeth Hartegan
Washington High School, Akia White
Sumner Academy of Arts & Science, Ajhanae Franklin
African Centered College Preparatory Academy, Freshelle Asberry
Sumner Academy of Arts & Science, Michaela Charles
High School Varsity Policy Debate Speakers
Lincoln College Prep, Frankie George
University Academy, Kayla Gilmore,
Lincoln College Prep , Ellen Baker
Washington High School , Willie Tolon
Washington High School , Kylah Owens
Lincoln College Prep,  Monica Propst
University Academy, Shawndrea Magee
University Academy,  Jazmyne Smith
University Academy, Demetrius Sterling
Wyandotte High School, Gary Bradley-Lopez
High School Varsity Policy Debate Total Wins
 Lincoln College Prep, Ellen Baker
Lincoln College Prep, Monica Propst
University Academy, Kayla Gilmore
University Academy, Frankie George
Washington High School, Phillip Jones
Middle School Open Policy Debate Speakers
Sumner Academy of Arts & Science, Suan Sonna
Sumner Academy of Arts & Science, Vanessa Obi
Benjamin Banneker Charter Academy, Cheyenne Clopton
Foreign Language Academy, Mary-Beth Eddy
Foreign Language Academy, Aaron (Max) Baker
Barstow School,  Tyler Durwood
Benjamin Banneker Charter Academy, Kailyn Garcia
Foreign Language Academy, Andrew Valdivia
Lee A. Tolbert Community Academy, Paul Allen
Foreign Language Academy, Tyree Brown
Middle School Open Policy Debate Total Wins
Sumner Academy of Arts & Science, Suan Sonna
Sumner Academy of Arts & Science, Vanessa Obi
Alta-Vista Middle School, Joshua Acosta
Foreign Language Academy, Aaron (Max) Baker
Benjamin Banneker Charter Academy, Cheyenne Clopton
Benjamin Banneker Charter Academy, Syeshia Flag
Benjamin Banneker Charter Academy, Kailyn C. Garcia
Lee A. Tolbert Community Academy, Paul Allen
Benjamin Banneker Charter Academy, Ja'Lyn Lewis
Lee A. Tolbert Community Academy, Phoebe Dolman
Middle School Varsity Policy Debate Speakers
Lee A. Tolbert Community Academy, Jared Hoskins
Foreign Language Academy, Lucy Mulholland
Lee A. Tolbert Community Academy, Josiah Hoskins
Barstow Debate, Audun Sundeen
Barstow Debate, Kristin Tingle
Foreign Language Academy, Anna Crawford
Foreign Language Academy, Mary-Beth Eddy
Barstow School, Megan Nalamachu
Foreign Language Academy, Tyree Brown
Barstow School, Aayush Karan
Middle School Varsity Policy Debate Total Wins
Barstow School, Kristin Tingle
Barstow School, Megan Nalamachu
Lee A. Tolbert Community Academy, Jared Hoskins
Lee A. Tolbert Community Academy, Josiah Hoskins
Foreign Language Academy, MaryBeth Eddy
Barstow School, Grayson Spidle
Barstow School Audun Sundeen
Foreign Language Academy,  Anna Crawford
Foreign Language Academy, Andrew Valdivia
Barstow School, Aayush Karan
High School Equity Debate Speakers
University Academy, Kayla Gilmore
Washington High School, Willie Tolon
Washington High School, Phillip Jones
High School Equity Debate Total Wins
Washington High School, Phillip Jones
Washington High School, Willie Tolon
University Academy, Kayla Gilmore
Posted by Isaac on Friday, March 7th, 2014 @ 6:43PM
Categories: News