Final DKC Power Rankings 2017 -2018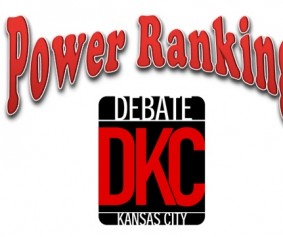 DEBATE-Kansas City is proud to announce the final power rankings of the season. Below you will find the top performers in the league in both middle and high school. If you earned a spot on the power rankings you are invited to the annual Awards Night Celebration at Kauffman Conference Center April 5th.
Student congress winners were determined by final placement in open or varsity divisions at DKC tournaments. In policy debate speaker awards were determined by having a minimum of 8 rounds in a given division and then the average speaker point earned by student. In the policy debate win category placement was determined by total number of wins in a given division with overall speaker point average breaking ties.
Congratulations to the whole league we look forward to celebrating with you April 5th.
High School Student Congress
Briana Maldonado, Wyandotte High School
Suan Sonna, Sumner Academy
Timothy McLaughlin, Sumner Academy
Emily Rodriguez, Wyandotte High School
Regan Amato, Notre Dame De Sion
Angela Carrazco, Sumner Academy
Taylor Pitzl, Notre Dame De Sion
Ashlynn Freeman, Sumner Academy
Savannah Miller , Washington High School
Kate Besong, Center High School
High School Policy Debate Novice Speakers
Areli Lopez Salas, JC Harmon High School
Omari Tatum, Southeast High School
Maqdas Bhatti, Lincoln College Prep
Lisa Thomas, University Academy
Jessiyah Ewing, University Academy
La'Raeya Williams-Pierce, Southeast High School
Luis Valadez, JC Harmon High School
Angelique Drake, Wyandotte High School
Clayton Bailey, University Academy
DAnthony Casey, University Academy
High School Novice Policy Debate Total Wins
Luis Valadez, JC Harmon High School
Eejan Clarkson, University Academy
Johnathan Mendoza, University Academy
Clayton Bailey, University Academy
Lisa Thomas, University Academy
Omari Tatum, Southeast High School
De'Ahris Murray, University Academy
Dewayne Pruett-King, Southeast High School
Quran Taylor, University Academy
Jenese Robinson-Smith, Allen Village High School
High School Junior Varsity Policy Debate Speakers
De'Na Newborn , Lincoln College Prep
Neymara Freeman, Sumner Academy
Jaleon Brown, Sumner Academy
Lily Scanlon, University Academy
Sophie French, Lincoln College Prep
Maleah Taylor, Kauffman School
Stephen Barratt, Sumner Academy
Brandon Mayberry, Kauffman School
Wren Pratt-Phillips, Lincoln College Prep
De'Onta Newborn, Lincoln College Prep
High School Junior Varsity Policy Debate Total Wins
De'Na Newborn , Lincoln College Prep
Sophie French, Lincoln College Prep
Maleah Taylor, Kauffman School
Wren Pratt-Phillips, Lincoln College Prep
Neymara Freeman, Sumner Academy
Jaleon Brown, Sumner Academy
Ann Nguyen, Kauffman School
Brandon Mayberry, Kauffman School
Jason Brown, Kauffman School
Payton Earl, Kauffman School
High School Varsity Policy Debate Speakers
Cheyenne Clopton, Lincoln College Prep
Raven LaBerrie, University Academy
Sakina Bhatti, Lincoln College Prep
Alex Thompson, Lincoln College Prep
Kailynn Denson, Allen Village High School
Anaia Johnson, Turner High School
Sydney Moechoe, University Academy
Byron Williams, University Academy
Patricia Salazar, Turner High School
Regina Sosa, Sumner Academy
High School Varsity Policy Debate Total Wins
Sakina Bhatti, Lincoln College Prep
Raven LaBerrie, University Academy
Cheyenne Clopton, Lincoln College Prep
Chyler Backstrom, Turner High School
Alex Thompson, Lincoln College Prep
Cyra Chronister, Turner High School
Sydney Moechoe, University Academy
Byron Williams, University Academy
Anaia Johnson, Turner High School
Kailynn Denson, Allen Village High School
Middle School Congress
Nadia Richard, Foreign Language Academy
Jakayla Brown, Sumner Academy
Russell Smith, Foreign Language Academy
Susan Besong, Center
Bennett Addink, Arrowhead
Sa'Mya Lewis, Sumner Academy
Sophia Herrera, Foreign Language Academy
Adriana Morfin, Smith-Hale Middle School
Edwin Navarrete, West Middle
Genessa Gillespie-Hughes, Rosedale Middle
Callie Stillion, Center Middle
Raesia Bruce, Sumner Academy
Victoria Guerra, Sumner Academy
Lilly Sutherline, Notre Dame
E'Charday Jackson, Rosedale Middle
Skye Ramos-Wood, Smith-Hale Middle
Faith Scott, Lee A. Tolbert Community Academy
Kaylee Rinehart, Turner Middle
Malachi Carruthers, West Middle
Tyra McNeil, Rosedale Middle
Middle School Varsity Policy Debate Speakers
Avisha Pandey, Barstow School
Christopher Ramsey, Barstow School
Sofia Gilchrist, Barstow School
Grayson Martin, Barstow School
Jaeda Davis, University Academy
Isa Herrera, Barstow School
Megha Gunapati, Barstow School
Jamaiyah Amerison, University Academy
Ayushi Kothari, Barstow School
Christopher Frye, Foreign Language Academy
Middle School Varsity Policy Debate Total Wins
Ayushi Kothari, Barstow School
Avisha Pandey, Barstow School
Christopher Ramsey, Barstow School
Grayson Martin, Barstow School
Megha Gunapati, Barstow School
faizan khalid, Barstow School
Jaeda Davis, University Academy
Jamaiyah Amerison, University Academy
Sofia Gilchrist, Barstow School
A'Mylah Long, University Academy
Middle School Junior Varsity Policy Debate Speakers
Briana Tolbert, University Academy
Alesia McFadden, University Academy
Maddie Bauman, Barstow School
Ariana Lindsay, Sumner Middle
Freddie Graham, Barstow School
Verena Im, Lincoln College Prep.
Saniah Garlington, University Academy
Mason Roberts, University Academy
Izzy Fears, Barstow School
Unity Gray, Foreign Language Academy
Middle School Junior Varsity Policy Debate Total Wins 
Briana Tolbert, University Academy
Alesia McFadden, University Academy
Izzy Fears, Barstow School
William Udo, University Academy
Maddie Bauman, Barstow School
JaQuez Jackson, University Academy
William Workcuff, University Academy
Gabriel Bates, Foreign Language Academy
James King, Foreign Language Academy
E'lon Freeman, University Academy
Middle School Policy Debate Novice Speakers
Isabella Gaudio, Patton Junior High
Simon Connor, Barstow School
Quinn Luce, Barstow School
Caroline Fry, Barstow School
Michael Andrade, Sumner Academy
Megan Jensen, Patton Junior High
Luke Mingus, Patton Junior High
Samantha Lendo, Patton Junior High
Asani Pugh, Foreign Language Academy
Aishi Sethi, Barstow School
Middle School Policy Debate Novice Total Wins
Simon Connor, Barstow School
Caroline Fry, Barstow School
Asani Pugh, Foreign Language Academy
Divya Dendi, Barstow School
Yulian Camarillo, Foreign Language Academy
Anders Hwang, Barstow School
Geordie Waldman, Barstow School
Megan Jensen, Patton Junior High
Samantha Lendo, Patton Junior High
Kadi Hall, Patton Junior High
Posted by Isaac on Thursday, March 15th, 2018 @ 8:53PM
Categories: Power Ranking
Tags: awards night, DKC, final power ranking, Power ranks, Year end awards