DKC Students Need Support to Compete at Nationals this Summer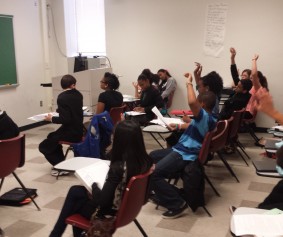 The largest academic competition in the world is coming to Overland Park, KS this summer and for $50 you can become a Junior Nationals Sponsor and give a DKC student the opportunity to compete. The National Speech and Debate Association Tournament (NSDAT and formerly NFL) will host nearly 4,000 students from across the country and around the world. While high school students must qualify to the tournament, the middle school division can be entered by any student that can find travel and pay the entry fees.
DEBATE-Kansas City students have competed at the NSDAT in past years, but in very limited numbers due to travel costs. With travel and lodging costs removed this year only one significant expense remains: tournament entry fees.
DKC has 50 students from nine middle schools that have registered to compete at NSDAT but most DKC schools have depleted their limited debate budgets. DKC, with the help of our supporters, is going to pay these fees. To become a Junior Nationals Sponsor you can donate here using PayPal. Make a note on the PayPal transaction that says "Junior Nationals". While $50 is the amount for one entry fee we sincerely appreciate donations of all sizes.
DEBATE-KC is also going to host a "Nationals Prep Rally" for students, parents and supporters on June 17th from 5:00 – 7:00 p.m. at the UMKC Debate House (5311 Holmes KCMO 64110) . DKC will grill up some burgers and dogs and provide our students support before the middle school competition begins the next day. We want DKC high schoolers, graduates and supporters, especially those with nationals experience, to visit and give our debaters a leg up and encouragement. If you plan to come let us know so we have an accurate head count by emailing debatekc@gmail.com.
To prepare students for national competition DKC already held a special tournament in March, a workshop in May and has been providing mentors to work with students. If you would like to mentor any DKC students preparing for nationals email debatekc@gmail.com.
Posted by Isaac on Tuesday, May 13th, 2014 @ 11:30PM
Categories: News