DKC Semester Ends with Middle & High School Tournaments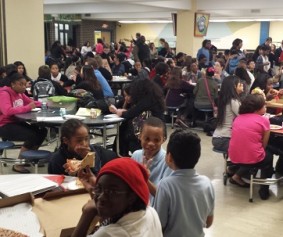 DEBATE-Kansas City held its fifth high school weeknight tournament of the season on Thursday, December 4th and then followed that up with the third middle school weeknight tournament on Tuesday, December 9th.
Washington High School hosted its third tournament of the season and claimed the overall sweepstakes award. Meanwhile, Allen Village and University Academy had strong showings.
At Smith Hale Middle School more than 300 students competed at DKC's largest tournament of the season. Foreign Language Academy claimed the overall sweepstakes prize but Arrowhead and Lee A. Tolbert were just one point behind.
Full results:
Washington Results
Top 5 Student Congress
Washington High School, Destinee' Gillom
Washington High School, Brooke Moody
Center High School, Warrior, Queen
Ruskin High School, Alexis Johnson
University Academy, Leah Council

 
Top 10 Novice Policy Debate Speaker
Allen Village High School, Markia Harvey
J.C. Harmon, Shane Conner
Patton Junior High, Princeton Henry
Patton Junior High, Joe Song
Allen Village High School, Robert Christen
University Academy, Mia Scott
Allen Village High School, Emanuel Boyd
Allen Village High School, Kimmy Thach
University Academy, Kent Crockett
Washington High School, Josh Strammel

 
Top 5 Novice Policy Debate Teams
Allen Village High School, Emanuel Boyd and Markia Harvey
Allen Village High School, Robert Christen and Kailynn Denson
University Academy, Faith Herring and Mia Scott
Washington High School, Josh Strammel
Allen Village High School, Madisson Barnes

 
Top 5 Regular Policy Debate Speakers
Central High School, Johnny Potter
Central High School, Braxton Call
Washington High School, JyVon Piper-Flowers
Washington High School, Austin Davis
Wyandotte High School, Marcellus Brown

 
Top 3 Regular Policy Debate Teams
Central High School, Johnny Potter and Braxton Call
Wyandotte High School, Chelsea Delgado and Marcellus Brown
Washington High School, Nick Schwab and Veronica Nichols

 
Top 3 Varsity Policy Debate Speakers
University Academy, Jazmyne Smith
University Academy, Shawndrea Magee
Allen Village High School, Gyasi Talib

 
Top 2 Varsity Policy Debate Teams
University Academy, Shawndrea Magee and Jazmyne Smith
Allen Village High School, Gyasi Talib and Taylor House

 
Team Sweepstakes
Washington High School
University Academy
Allen Village High School

 
Smith Hale Results 
6th Grade House A
Foreign Language Academy, Jack Valdivia
Central Middle, Adrianna Gonzalez
Coronado Middle School, Decorhea Guillotte
Coronado Middle School, Mathew Calhoun
Arrowhead Middle School, Katie Hogue
6th Grade House B
Lee A. Tolbert Community Academy, Erika Scott
Lee A. Tolbert Community Academy, Mariyah Haliburton
Foreign Language Academy, Manana Nureini
Coronado Middle School, Aubrey Her
Coronado Middle School, Madison Wells
6th Grade House C
Center Middle School, Darrell Green
Rosedale, Leona Waylan
University Academy Middle School, Joardy Looney
Lee A. Tolbert Community Academy, Cyniah Clark
Lee A. Tolbert Community Academy, Tylecia Wiley

 
Novice House
Turner Middle School, Ethan Maxey
Foreign Language Academy, Henry Valdivia
Turner Middle School, Valeria Beltran
Turner Middle School, Jalen Nelson
Turner Middle School, Mckenzie Rodriguez

 
Open House A
Smith-Hale Middle School, Andrew Frazier
Sumner Academy of Arts & Science, Leon Brown, Jr.
Faith Academy, Karen Dorsainville
Sumner Academy of Arts & Science, Selene Gallegos
Faith Academy, John Eldridge

 
Open House B
Northwest Middle School, Xavier Wallace
Smith-Hale Middle School, Yusuf Khan
Arrowhead Middle School, T'Khara Jones
Rosedale, Kassandra Guerra
Faith Academy, Aliyah Webb

               
Open House C
Lee A. Tolbert Community Academy, Marquies Johnson
Arrowhead Middle School, Kyra Duwe
Coronado Middle School, Anthony Lasley
Faith Academy, Kirsten Jackson
Coronado Middle School, Jose Ramirez-Lopez

               
Top 5 Novice Policy Debate Speakers
Sumner Academy of Arts & Science, Kasey Romo-Nieves
Sumner Academy of Arts & Science, Darrien J. Sanders
Turner Middle School, Matthew Jones
Barstow School, Emma Jenkins
Barstow School, Aasim Hawa

 
Top 5 Novice Policy Debate Teams
Sumner Academy of Arts & Science, Kasey Romo-Nieves and Darrien J. Sanders
Barstow School, Emma Jenkins and Zoe Brous
Sumner Academy of Arts & Science, Jovanna Joyce and Racquel Barnett
Barstow School, Aasim Hawa and Miles Luce
Sumner Academy of Arts & Science, Ashley Bravo and Rene Rojas           

 
Top 5 Varsity Debate Speakers
Barstow School, Ajay Guduputi
Foreign Language Academy, Andrew Valdivia
Foreign Language Academy, Sam Keeney
Lee A. Tolbert Community Academy, Gerron Jackson
Barstow School, Paul Case

 
Top 5 Varsity Policy Debate Teams
Barstow School, Paul Case and Ajay Guduputi
Foreign Language Academy, Aaron (Max) Baker and Monica Bates
Barstow School, Kristin Tingle and Tyler Durwood
Barstow School, Darrius Hughes and Sam Short
Foreign Language Academy, Andrew Valdivia and Sam Keeney 

 
Team Sweepstakes
Foreign Language Academy
Arrowhead Middle School
Lee A. Tolbert Community Academy

 
Posted by Isaac on Thursday, December 18th, 2014 @ 4:37AM
Categories: News