DKC HS City Champs a Success with Support of area College Debate Teams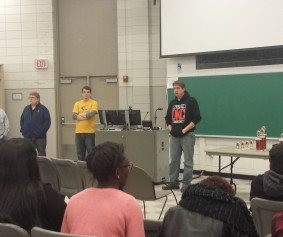 DEBATE-Kansas City hosted the high school policy debate City Championship on the campus of the University Missouri Kansas City (UMKC) with the support of area college debate programs. College debaters from UMKC, Kansas City Kansas Community College (KCKCC), Johnson County Community College and Emporia State judged at the tournament, while head college debate coaches collaborated for a special presentation prior to the awards ceremony. DKC recruits quality judges for the City Champs because the winner in the varsity division receives a bid to the Urban Debate Nationals in Washington D.C., and the presence of college programs demonstrates the connection between debate and future opportunities.Last year a freshman duo from Lincoln Prep shocked the field by capturing first place to earn the bid, and this year they repeated. Monica Propst and Ellen Baker went undefeated in four preliminary rounds and won their semifinal debate against the Washington dup of Phillip Jones and Willie Tolon. Lincoln's squad mate, Frankie George, captured second place debating as a maverick (without a partner) and also won her semifinal round, defeating University Academy's team of Kayla Gilmore and Shawndrea Magee. Since both semifinal winners were from Lincoln Prep they "closed out" the tournament and the higher seeded duo of Propst and Baker won the top honors and the bid.
Both semifinal rounds were decided on close 2-1 decisions. Though the debaters from Washington and University Academy were surely disappointed, more opportunities await. For seniors like Kayla Gilmore and Willie Tolon that may include college debate. They were certainly approached by enough college debate recruiters to have the opportunity.
Prior to the awards ceremony head debate coaches from four college programs gave presentations about their teams and answered general questions about college debate. Matt Vega (head coach) and Malcolm Gordon (assistant) represented UMKC debate, which currently has DKC graduate Corey Fisher as one of its most promising young members. The head coach at KCKCC, Darren Elliot, has also coached DKC graduates and encouraged students in the audience to strongly consider college debate.
Sam Maurer, the former coach of Ryan Wash a DKC graduate who made college debate history, came from Emporia State looking for the next great debater from DKC to join his squad. He noted that, "Anyone in this room could be a college debater. Anyone here debating at this tournament has the talent and ability to debate in college." Additionally, Lincoln Prep's coach Sohail Jouya, who also heads the new debate program at Missouri Western, gave students another debate option in college with the parliamentary competition his team engages and echoed that all the students in attendance should strongly consider some form of college debate.
In the novice division Washington and Lincoln Prep battled each other in both semifinals and finals, with the Lincoln Prep team of Adrian Ruiz and Jorge Lopez eventually earning first place over Akia White and Elizabeth Hartegan of Washington. You can see the full list of winners below.
High School Policy Debate City Championship Awards
Novice Teams
Lincoln College Prep, Adrian Ruiz and Jorge Lopez
Washington High School , Akia White and Elizabeth Hartegan.
Washington High School , Faith Johnson and Deanna Daniels
Lincoln College Prep, Akot Riak and Chebet Buckner
Novice Speakers
Lincoln College Prep, Chebet Buckner
Lincoln College Prep, Akot Riak
Washington High School, Faith Johnson
Washington High School, Elizabeth Hartegan
Lincoln College Prep, Jorge Lopez
Lincoln College Prep, Adrian Ruiz
African Centered College Preparatory Academy, Freshelle Asberry
Open Teams
Lincoln College Prep, Monica Propst and Ellen Baker
Lincoln College Prep, Frankie George
University Academy , Kayla Gilmore and Shawndrea Magee
Washington High School , Phillip Jones and Willie Tolon
Open Speakers
University Academy , Kayla Gilmore
Lincoln College Prep, Frankie George
Washington High School, Willie Tolon
Washington High School, Phillip Jones
University Academy, Shawndrea Magee
Wyandotte High School, Malavian Thammavongsa
Lincoln College Prep, Ellen Baker
Posted by Isaac on Tuesday, January 21st, 2014 @ 5:45PM
Categories: News