DKC First Semester Power Rankings 2015-16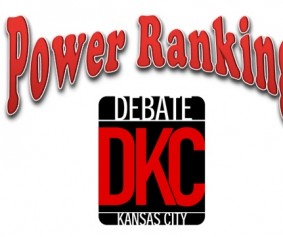 DEBATE-Kansas City is finally ready to announce the first set of Power Rankings for the 2015-16 season. Below you will find the top performers in the league in both middle and high school. Those that make the list at the end of the year will be invited to the annual Awards Night Celebration at Kauffman Conference Center. This list will be updated as the season progresses.
Student congress winners were determined by final placement in open or varsity divisions at DKC tournaments. In policy debate speaker awards were determined by having a minimum of 4 rounds in a given division and then the average speaker point earned by student. In the policy debate win category placement was determined by total number of wins in a given division. In some cases students may have placed in more then one division. In this case the student was given their highest placement in the most advanced division and removed from their lower ranking and division to maximize award distribution.
Top 20 Middle School Student Congress
Turner Middle School, Sabrina Whalen
Northwest Middle School, Nasir Muhammad
Smith-Hale Middle School, Cardon Bolen
Sumner Academy of Arts & Science, Amari Lewis
Sumner Academy of Arts & Science, Anthony Lasley
Arrowhead Middle School, Kyra Duwe
Lee A. Tolbert Community Academy, Tylecia Wiley
Northwest Middle School, Micah Emery
Sumner Academy of Arts & Science, Ashanti Goodlow
Turner Middle School, Dasia Brown
Foreign Language Academy, Tracey Thomas
Northwest Middle School, Jayme Thompson
Arrowhead Middle School, Kyra Singleton
Rosedale Middle, Leona Whalen
Arrowhead Middle School, Madison Cecil
Turner Middle School, Michelle Smith
Arrowhead Middle School, Quantre Moore
Lee A. Tolbert Community Academy, Cyniah Clark
Center Middle School, Derrell Green
Northwest Middle School, Erick Grajeda-Galvan
Top 5 Speakers Grade 6 Policy Debate.
Coronado Middle School, Issis Banks-Bush
University Academy Middle School, Jamaiyah Amerison
University Academy Middle School, Izrael Todd
University Academy Middle School, Jaeda Davis
University Academy Middle School, A'Mylah Long
Top 10 Wins Grade 6 Policy Debate *All Competitors are tied in wins
University Academy Middle School, A'Mylah Long
University Academy Middle School, Izrael Todd
University Academy Middle School, Jaeda Davis
University Academy Middle School, Jamaiyah Amerison
University Academy Middle School, Jasmyn Fazier
Coronado Middle School, Lisa Calhoun
Arrowhead Middle School, Oscar Graham
Arrowhead Middle School, Quincey Brown
University Academy Middle School, Skye Foster
University Academy Middle School, Timiah Ford
Top 5 Speakers Middle School Novice Policy Debate
Patton Junior High, Emily Gamble
Patton Junior High, Kate Bircher
Patton Junior High, Alysha Waseem
Northwest Middle School, Justice Thompson
Patton Junior High, Braelynn Harms
Top 8 Wins Middle School Novice Policy Debate*All Competitors are tied in wins
Turner Middle School, Abigail Romero
Northwest Middle School, Adella Birdwell
Kauffman School, Ann Nguyen
Kauffman School, Jackie Williams
Northwest Middle School, Justice Thompson
Kauffman School, Maqdas Bhatti
Lee A. Tolbert Community Academy, Mckenzy Brown
Kauffman School, Samaia Williams
Top 5 Speakers Middle School Varsity Policy Debate
Patton Junior High, Tyler Unrath
Patton Junior High, Madison Walden
Patton Junior High, Sarah Perdue
Lee A. Tolbert Community Academy, De'onta Newborn
Patton Junior High, Alex Garcia
Top 8 Wins Middle School Varsity Policy Debate *All Competitors are tied in wins
Sumner Academy of Arts & Science, Ashlynn Freeman
Coronado Middle School, Christian Renteria
Sumner Academy of Arts & Science, Israel Hunt
Barstow School, Jacqueline Tingle
Barstow School, Phoebe Brous
Barstow School, Ryan Lang
Arrowhead Middle School, Trinity Lawrence
Arrowhead Middle School, Yessenia Muno
Top Speaker High School Novice Policy Debate
University Academy, Alexis Tolbert
University Academy, Jordan Foster
Lincoln Prep, Grace Davis
University Academy, Bernadette Looney
University Academy, Raven LaBerrie
Top 5 Wins High School Novice Policy Debate
University Academy, Alexis Tolbert
University Academy, Raven LaBerrie
University Academy, Ryan Wilson
University Academy, Blake Norton
Lincoln Prep, Isabelle Fox
Top 5 Speakers High School JV Policy Debate
Lincoln Prep, Anna Crawford
Lincoln Prep, Cheyenne Clopton
Sumner Academy of Arts & Science, De'Auan McClaine
Lincoln Prep, Alex Thompson
University Academy, Mia Scott
Top 5 Wins High School JV Policy Debate
Lincoln Prep, Monica Bates
Lincoln Prep, Bria Walters
Sumner Academy of Arts & Science, Cabria Ridgnal
Sumner Academy of Arts & Science, Cheyenne Mielkus
University Academy, David Howard
Top 5 Speakers High School Varsity Policy Debate
Lincoln Prep, Chebet Buckner
Sumner Academy of Arts & Science, Michael Franklin
Lincoln Prep, Ellen Baker
Sumner Academy of Arts & Science, Vanessa Obi
Lincoln Prep, Xochitl Tapia
Top 5 Wins Varsity Policy Debate
Lincoln Prep, Chebet Bucker
Lincoln Prep, Ellen Baker
University Academy, Alexis Tolbert
University Academy, Blake Norton
Sumner Academy of Arts & Science, Santosh Biswa
Top 5 High School Student Congress
Sumner Academy of Arts & Science,  Savannah Miller
Sumner Academy of Arts & Sciences, Jackie Williams
Sumner Academy of Arts & Science, Suan Sonna
Sumner Academy of Arts & Science,  Marley Lowe
Sumner Academy of Arts & Science, Jasmin Arthur
Posted by Isaac on Tuesday, January 12th, 2016 @ 9:45PM
Categories: News