DKC Debaters Making History & Telling Their Story to the KC Star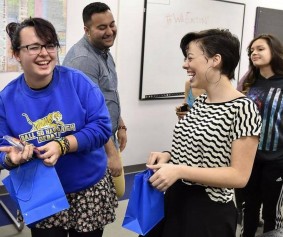 To say that Ellen Baker and Monica Medeiros have been excelling with DEBATE-Kansas City (DKC) since middle school is an understatement.
Monica Medeiros (previously Propst) had the only perfect season in DKC league history as a student congress competitor in eighth grade, while her Foreign Language Academy squad mate, Ellen Baker, was debating on a highly ranked middle school policy team. The next year they both moved to Lincoln College Preparatory Academy and teamed-up in policy debate to form one of the best duos in league history.
As first-year high school competitors, Ellen and Monica took older debaters by surprise to capture their first of three consecutive DKC City Championships in varsity policy debate. Those victories earned them three straight trips to the Urban Debate Nationals, including one this April 9-12 to Los Angeles, California.
If you would like to contribute to DKC's expenses in sponsoring their travel costs to the Urban Debate Nationals, please click here. We would gladly accept any donation amount, and you can make a note in the Pay Pal transaction that your donation is for "UDL Nats".
Just two weekends ago Monica and Ellen made history by becoming the first all-female duo in a long time to win the Show Me District qualifying final, which sends them on to the National Speech and Debate Association's national championships this June in Dallas.
Below is the full story from the Kansas City Star, which in addition to accolades, details some of the significant challenges Ellen and Monica have faced at tournaments outside of DKC's urban debate league.
BY JOE ROBERTSON
THE KANSAS CITY STAR
03/23/2015 7:40 PM & 03/24/2015 12:10 PM
Now what do you have to say about Ellen Baker and Monica Medeiros?
The two troublemakers from Lincoln College Preparatory Academy like it that they rattled a lot of cages with a history-making burst to win their regional district's national championship qualifying tournament in policy debate.
It's been a long time since a female duo has done that. They cut their swath through a male-dominated battle zone purposefully making people uncomfortable.
They know opponents often think it unfair when they lace their arguments in a resolution on ocean exploration with raw examinations of feminism, sexism and harassment.
This time around, as they ran undefeated past powerhouse teams from Blue Springs, Lee's Summit and Pembroke Hill, their trail of disruption was documented.
By coach Sohail Jouya's count, no fewer than 10 complaints sought the disqualification of Baker and Medeiros during the tourney March 6 and 7 at Lee's Summit North High School.
And at least one judge along the way was offended, seeing aggression in Medeiros' style that was noted in the judge's comments, which Medeiros photographed and saved.
"You're attacking them for being white men? Really? I am not voting for you because you are a Latino female."
That's fine, Medeiros says. She and Baker "did not come into debate to be what people wanted us to be."
"We're not going to conform and be the docile sidekick (to a male lead) that a girl is supposed to be."
And the juniors, by powering to the championship through a regional tourney field of 41 teams from 27 schools, bucked the odds.
The Women's Debate Institute in San Francisco reports that there are four times more males than females in policy debate and that the number of females participating in the elite Tournament of Champions has been declining the past decade.
The institute's Best Practices Manual describes a "pervasive and universal" climate of sexism for most female debaters.
Sexist jokes. Comments about their bodies or clothes. Being told their voices are too high-pitched. Being talked down or ignored in cross-examination.
The institute's litany resonated with Baker, 16, and Medeiros, 17.
"We get held to a double standard," Baker said.
Female debaters are too loud, or they're too quiet. They're too aggressive, or they're meek.
It pains him as coach, Jouya said, that he often feels he has to measure the sensibilities of a tournament and its judges and counsel the teenagers on their appearance in a way not practiced with male debaters.
Is your skirt long enough? Should you lose the nose ring? How's your hair? Your shoes?
The teenagers joined as debaters first in middle school at Kansas City Public Schools' Foreign Language Academy, then moved up to Lincoln as freshmen — still searching for the identity that would make them successful.
The male domination was intimidating, they said. Their first debate, in Lee's Summit, against two upperclassmen sporting beards, was launched with tears of anxiety.
"We lost," Baker said.
Their sophomore year they found their footing. They could machine-gun the common evidence-heavy argument style if they had to, but they were branching out in their own direction.
Original poetry, even song. Drawing on the words of musicians like Lauryn Hill and Flying Lotus. Getting personal about their struggles.
Some judges allow it. Some judges, when the debaters ask at the outset of a match, tell them they're not so keen on such radical expression, and Baker and Medeiros will come with a more traditional attack.
"They are incredible at adapting several different philosophies," Jouya said. "That makes them so dangerous."
It helps, the debaters said, that all the Lincoln debaters support each other like a close family. Because Baker and Medeiros had to get comfortable asserting their maverick roles.
They've felt isolated.
"Not everyone looks like us," Medeiros said. "Not everyone speaks like us. Not everyone likes us."
Their title in the Show Me District qualifying final sends them on to the National Speech and Debate Association's national championships this June in Dallas.
They've also qualified for the National Association of Urban Debate League's championships next month at the University of Southern California, and, their coach said, they are certain to qualify for the National Catholic Forensic League's championships Memorial Day weekend in Fort Lauderdale, Fla.
A rare hat trick.
Look out, here they come.
Posted by Isaac on Tuesday, March 24th, 2015 @ 11:16PM
Categories: News