DKC Awards Night Celebration 2016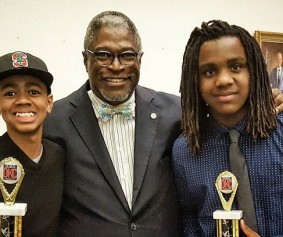 DEBATE-Kansas City's annual Awards Night Celebration sponsored by UMKC Communication Studies featured a loaded program that began with an award for Kansas Superintendent of the Year Dr. Cynthia Lane and concluded with a keynote speech from Kansas City, Mo. Mayor Sly James at the Kauffman Conference Center on May 4th, 2016. DKC also presented more than 100 trophies to deserving debaters and provided awards for coaches and volunteers.
The the night began with the first-ever Administrator of the Year, which was presented to Dr. Cynthia Lane of Kansas City Kansas Public Schools (KCKPS) and Alan King, the Director of Curriculum at KCKPS. The two have worked together to make sure every KCKPS has access to debate.
"I was a little surprised to get an award for something I think all administrators should do," said Dr. Lane in her remarks accepting the award. But in a world of budget cuts, many debate programs have faced the chopping block. Without strong administrative support debate teams lack the most fundamental need, a budget, which makes the leadership of Dr. Lane and Mr. King all the more important.
DKC's next award was the Aaron Thomas Volunteer of Year. This year DKC recognized Jennifer Underwood, who has been working with DKC since its 1998 inception as an Administrative Assistant for UMKC Communication Studies. Over nearly two decades Jennifer has gone far beyond her official duties to help DKC. She has provided essential expertise in navigating bureaucracy to start DKC programs, hire and pay staff and to provide debate scholarships. She attends DKC events and is incredibly supportive of both DKC staff members.
"Jennifer has provided DKC staff guidance, support, and help time and time again," said DKC Program Director Isaac Allen. "I know that if I need help, Jen will be there."
DKC also recognized the amazing work of its debate coaches. First, was the newest member DKC Coaches of Hall of Fame, Bill Lindsey of Lee A. Tolbert Community Academy (LATCA). Mr. Lindsey has been coaching debate at LATCA since 2007 and over that time more than 500 debaters have gone through his program. Bill Lindsey also did something no other DKC middle school has ever done – he took debaters to the National Speech and Debate Association (NSDA) Junior Nationals multiple times. The NSDA Junior Nationals is unique in that anyone can compete if they can afford the travel and entry fees. Mr. Lindsey has led the effort for LATCA to raise the $10,000 needed each year to send about a dozen debaters and parents to the junior national tournament. Over that time he coached two finalists and provided many students an amazing national tournament experience they will never forget.
"Bill Lindsey simply makes debate happen to give his students opportunities," said Gabe Cook, DKC's Executive Director. "And because of that he's our newest member to the DKC Coaches Hall of Fame."
Next came regular season coaching awards, which were as follows:
Anna Weston, Southwest, Newcomer of the Year
Young Lester, Argentine, Newcomer of the Year
William Billy Brame, Arrowhead, Leadership in Coaching
Sohail Jouya, UA, Most Resilient
Stefan Jones, Coronado, host with the Most
Jason Zimmerman, Kauffman, Host with the Most
Russell Buchanan, Patton, On the Road Again
Holy Ford, Smith Hale, Most Resourceful
Leayn Losh, Rosedale, Most Community-Minded Coach
Monica Young and Nicole Pizzato, School Spirit Award for Northwest
DKC's best and brightest middle school congressional debaters performed a mini debate over whether or not we should ban football in US public schools. Kyra Duwe of Arrowhead Middle School supported a ban on football while Sabrina Whalen of Turner opposed. Asking questions after each speech were the following: Amari Lewis, Sumner Academy, De'na Newborn, Lee A. Tolbert and Leona Whalen, Rosedale.
After the performance DKC presented more than 100 awards to students who had earned them through year-long success. DKC tallies each students score at each DKC tournament all year long and routinely posts the results in a league-wide Power Ranking. The final winners on the Power Rankings were invited to Awards Night.
The last award went to a very special duo, Ellen Baker and Monica Medeiros of Lincoln Prep. Each year DKC provides the Mevlin B. Tolson Senior Award to one deserving student. But this year DKC could not break the tie between two young women that had been debating together since their first day of high school. Last year they placed third at Urban Debate Nationals, advanced to elimination debate at Catholic NFL Nationals and qualified to the NSDA Nationals. In doing so, they were one of the only teams to ever compete at three high school national tournaments in the same year. And they were the first all-female duo to advance to nationals from their district in over 30 years, and just the second team from their school to qualify.
Both Ellen and Monica were given time to speak and they delivered a heartfelt thanks to DKC, their coaches and supporters. Their sincere gratitude for opportunities provided through debate was moving, and more than a few tears were shed.
The action packed nigh was capped with a speech from Kansas City, Missouri Sly James. Mayor James spoke about the importance of education and listening to your mentors and parents. The Mayor also noted how the skills of debate, like research and public speaking, very much align with the skills needed to be a Mayor, or an attorney, his previous field.
"I was never a debater, but I wish I had been," said Mayor James. Then he noted his parents surely thought he was a debater, regardless of whether he was on a team. He went on to applaud the students of DKC for their hard work and dedication to academic competition and encouraged them to continue. After the program ended, Mayor James stayed around for photographs and spent time with debaters and their families, offering encouraging thoughts. It was clear that the Mayor's presence and engagement meant a great deal to the DKC community at Awards Night. The full list of award winners is below.
Middle School Congress
Arrowhead Middle, Kyra Duwe
Turner Middle, Sabrina Whalen
Turner Middle, Michelle Smith
Sumner Academy, Amari Lewis
Lee A. Tolbert, De'na Newborn
Rosedale Middle, Leona Whalen
Lee A. Tolbert, Logan Bates
Turner Middle, Quincey Murray
Northwest Middle, Nasir Muhammad
Sumner Academy, Amaya Dajani
Sumner Academy, Ashanti Goodlow
Turner Middle, Chyler Backstrom
Sumner Academy, Kasandra Guerra
Foreign Language Academy, Tracey Thomas
Northwest Middle, Xavier Wallace
Northwest Middle, Micah Emery
Turner Middle, Bridget Vogan
Smith Hale Middle School, Cardon Bolen
Lee A. Tolbert, Mariyah Haliburton
Arrowhead Middle, Kimberly Owens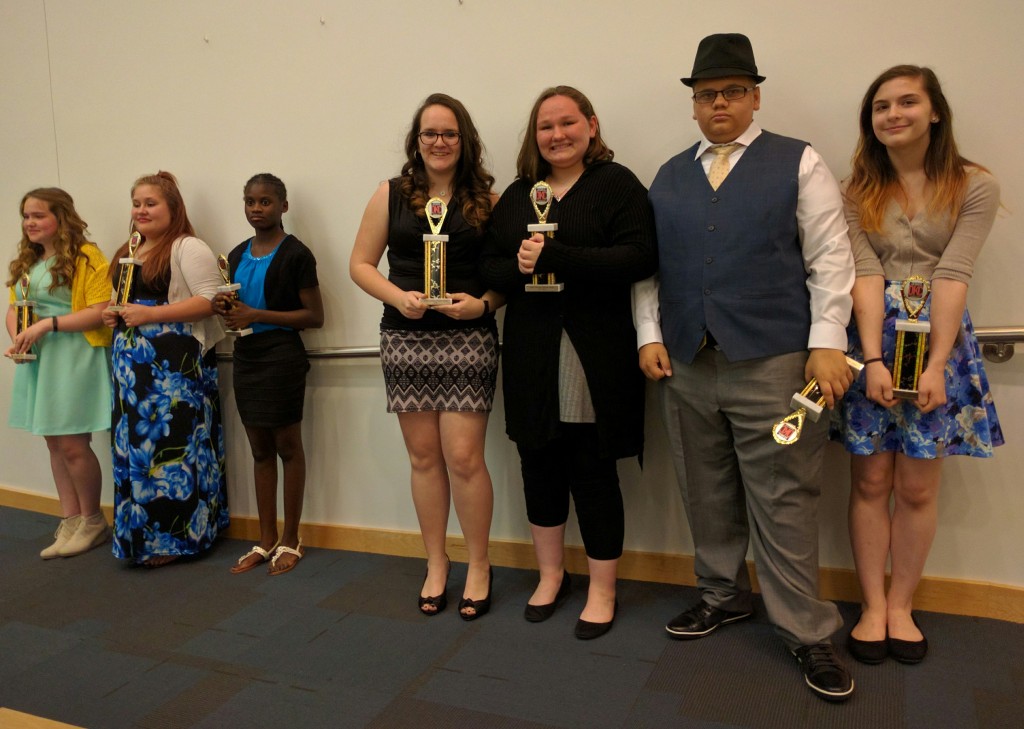 Middle School Varsity Policy Wins
Barstow School, Ali Yoon
Barstow School, Miles Luce
Barstow School, Phoebe Brous
Barstow School, Ajay Guduputi
Barstow School, Jacqueline Tingle
Barstow School, Aasim Hawa
Barstow School, Ryan Lang
Barstow School, Amanda Munsell
Barstow School, Henry Bash
Barstow School, Mark Lopatofsky
Middle School Varsity Policy Speakers
Kauffman School, Payton Earl
Kauffman School, Donovan Herron
Barstow School, Miles Luce
Arrowhead Middle, Trinity Lawrence
Arrowhead Middle, Yessenia Munoz
Barstow School, Aasim Hawa
Barstow School, Ali Yoon
Barstow School, Phoebe Brous
Barstow School, Ajay Guduputi
Barstow School, Jacqueline Tingle
Middle School Novice Policy Speakers
Kauffman School, Maqdas Bhatti
Northwest Middle, Justice Thompson
Smith-Hale Middle, Yusuf Khan
Northwest Middle, Adella Birdwell
Arrowhead Middle, KhaTera Jones
Smith-Hale Middle, Andrew Frazier
Barstow School, John Lubianetsky
Barstow School, Jack Hanson
Kauffman School, Ann Nguyen
Coronado Middle, Nealie Turner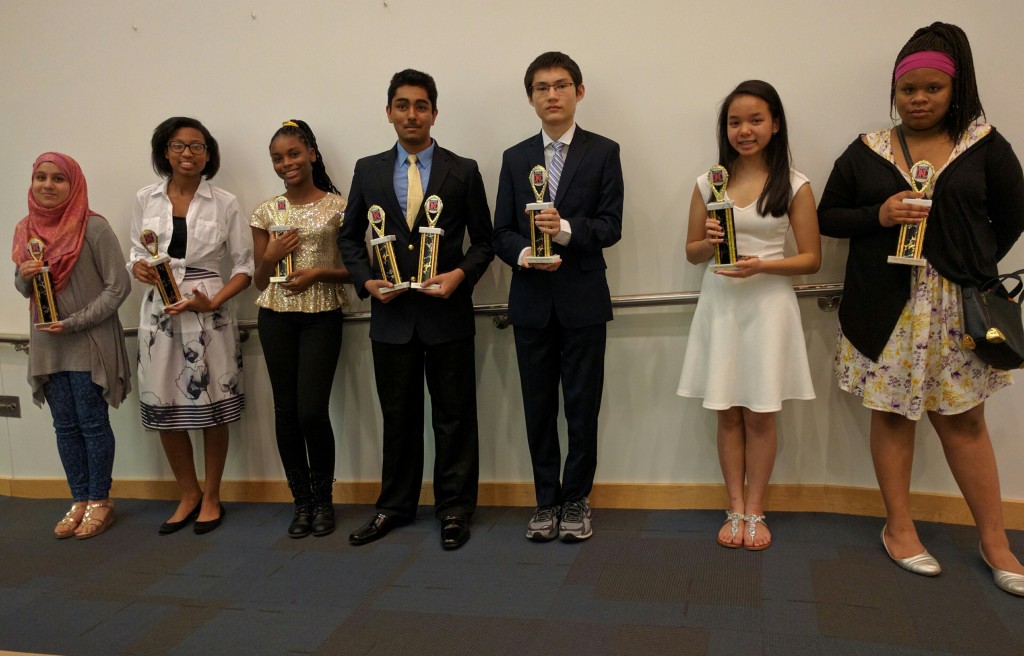 Middle School Novice Policy Wins
Barstow School, Sebastian Newman
Barstow School, John Lubianetsky
Barstow School, Jack Hanson
Kauffman School, Maqdas Bhatti
Northwest Middle, Justice Thompson
Smith-Hale Middle, Yusuf Khan
Smith-Hale Middle, Andrew Frazier
Barstow School, Albert Park
Lee A. Tolbert, De'onta Newborn
Northwest Middle, Adella Birdwell

 

 
Middle School Grade 6 Policy Speakers
Coronado Middle,Issis Banks Bush
University Academy, Jamaiyah Amerison
University Academy, Jaeda Davis
University Academy, Izrael Todd
Arrowhead Middle, Quincey Brown

 
Middle School Grade 6 Policy Wins
University Academy, Jamaiyah Amerison
University Academy, Jaeda Davis
University Academy, Izrael Todd
Arrowhead Middle, Quincey Brown
Arrowhead Middle, Oscar Graham

 
High School Varsity Policy Speakers
Lincoln Prep, Chebet Buckner
University Academy, Brandon Fields
University Academy, Jazmyne Smith
Wyandotte High, Gary Bradley-Lopez
Wyandotte High, Marcellus Brown

 
High School Varsity Policy Wins
Lincoln Prep, Chebet Buckner
University Academy, Brandon Fields
University Academy, Jazmyne Smith
Sumner Academy, Vanessa Obi
Lincoln Prep, Xochitl Tapia

 
High School Novice Policy Speaks
Kauffman School, Maleah Taylor
Kauffman School, Brandon Mayberry
Kauffman School, Jacob Esquivel
University Academy, Raven LaBerrie
Wyandotte High, Abby McBreaty
Sumner Academy, Ana Apodaca
Wyandotte High, Tra'chell Bullock
University Academy, Jordan Foster
Kauffman School, LaQuincy Long
Lincoln Prep, Isabelle Fox

 
High School Novice Policy Wins
University Academy, Raven LaBerrie
Kauffman School, Maleah Taylor
University Academy, Jordan Foster
University Academy, Ryan Wilson
University Academy, Alexis Tolbert
Lincoln Prep, Isabelle Fox
Lincoln Prep, Noemi Bravo
University Academy, Bernadette Looney
University Academy Blake Norton
Lincoln Prep, Grace Davis

 
High School JV Policy Speakers
Lincoln Prep, Cheyenne Clopton
University Academy, Mia Scott
Lincoln Prep, Sakina Bhatti
Lincoln Prep, Alex Thompson
Lincoln Prep, Anna Crawford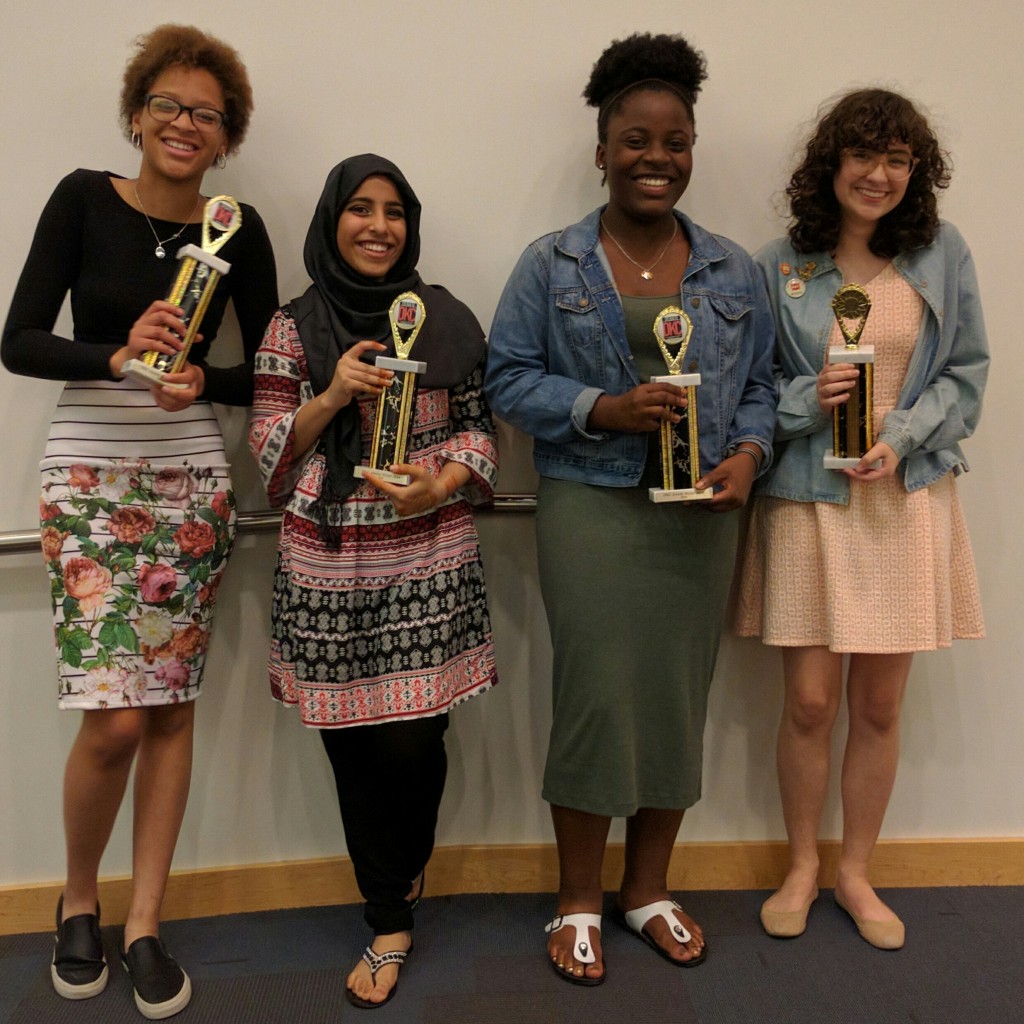 High School JV Policy Wins
Lincoln Prep, Cheyenne Clopton
Lincoln Prep, Sakina Bhatti
Lincoln Prep, Alex Thompson
Lincoln Prep, Anna Crawford
Lincoln Prep, Bianca Harvey

 
High School Congress
Southwest High School, Jobe Tunis
Center High School, Queen Warrior
J.C. Harmon, Ivan Bueso
Sumner Academy of Arts & Science, Savannah Miller
J.C. Harmon, Vilmer Alvarado
Posted by Isaac on Monday, May 9th, 2016 @ 6:44PM
Categories: News