DKC Awards Night 2017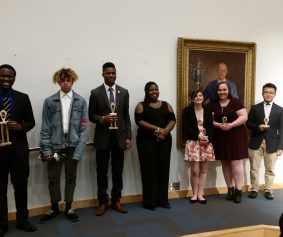 On April 4th, 2017 DEBATE-Kansas City's (DKC) held its annual Awards Night Celebration sponsored by UMKC Communication Studies and it featured a keynote address from DKC legend Corey Fisher, a Hall of Fame Coach induction and over 100 student awards. The event was held at the Kauffman Conference Center and the 200 person room was filled to capacity.
DKCs began the evening honoring the 2017 Aaron Thomas Volunteer of Year, Andy Atkins. Mr. Atkins is a member of the DKC Board of Directors and has put in countless hours preparing a signature fundraising event for DKC, called Q for a Cause. Mr. Atkins, a BBQ competition enthusiast, decded he could provide all the BBQ for s fundraising event and the idea took off from there thanks to his hard work.
DKC also recognized the amazing work of its debate coaches. First was the newest member DKC Coaches of Hall of Fame, Billy Brame of Arrowhead Middle School. Mr. Brame has been coaching debate at Arrowhead since 2007 and over that time more than 500 debaters completed his program. Plus, he coordinates debate internally for all Kansas City, Kansas Public Schools middle schools. Mr. Brame was recognized for his work helping DKC build and grow its nationally acclaimed middle school debate program. Mr. Brame proved in his remarks that not only is he a legendary debate coach but also a outstanding orator who can captivate a room with a heartfelt but humorous acceptance speech.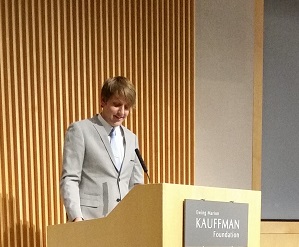 "Mr. Brame is an educator of the highest caliber. His commitment to debate over the last decade has opened up debate to so many students," said Gabe Cook, DKC's Executive Director. "Mr. Brame has been instrumental in DKC success at the middle school level and is always there to go the extra mile for students and coaches in the league. He is a tireless advocate for his students and gives freely of his time and talent."
Next came regular season coaching awards, which were as follows:
Elizabeth Schilling, Northwest, Newcomer of the Year
Cody Kaspzyk, De Sion, Newcomer of the Year
Billy Brame, Arrowhead, Leadership in Coaching
Linda Collier, Barstow School, Most Innovative Coach
Sohail Jouya, UA, Host with the Most
William Lindsey, LATCA, Most Resourceful Coach
Terrie Miller, Central Middle, Comeback of the Year
Young Lester, Argentine Middle, Presiding Officer Award
Stefan Jones, Coronado, School Spirit Award
Jamelle Brown, Sumner Academy, Most Courteous Team
DKC's stellar middle school congressional debaters performed a mini debate over whether or not we should cooperate with China in space. Erika Scott of Lee A Tolbert spoke on the affirmative and Tracey Thomas of Central Middle spoke on the negative. Both students delivered great speeches that underscore the value of middle school debate. Victoria Guerra of Rosedale, Leona Whalen of Sumner Academy and Andrea Morfin-Valencia of Smith Hale asked great questions of the speakers and the whole room was impressed by the professionalism and skill of our middle school congress debaters.
After the performance, DKC presented more than 100 awards to students who had earned them through yearlong success. DKC tallies each students score at each DKC tournament all year and routinely posts the results in a league-wide Power Ranking. The final winners highlighted on the Power Rankings were invited to Awards Night.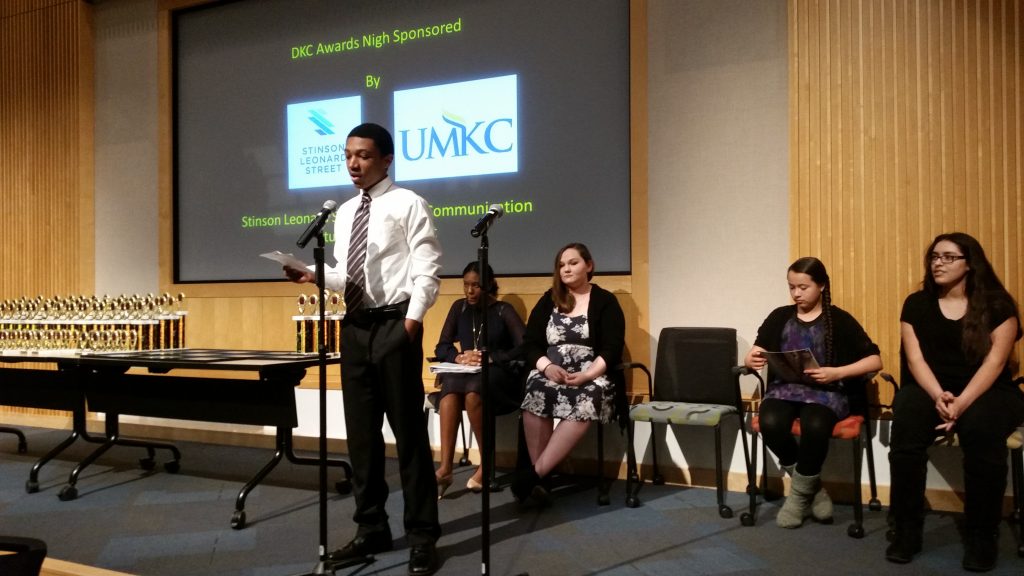 The last major award went to a very special student; Royal Sullivan of Sumner Academy was named this year's Mevlin B. Tolson Senior Award winner. Royal has been with DKC since his 9th grade year and has won about every major award a debater can win. He and his partner Michael Franklin took home 5th place in the State of Kansas for policy debate and were finalist at the Missouri State University tournament. The also happened to be the top team at the DKC City Championship. Beyond competitive successes, Royal has coached in the middle school league and is a mentor to all DKC students; he is generous with his time and is a dedicated leader. He will be debating in college for Kansas City Kansas Community College and he truly upholds the storied legacy of Melvin B. Tolson.
The evening ended with a speech from DKC graduate Corey Fisher. Corey spoke to the room full of students, coaches and family members about his recent college debate success and offered insights to the next generation of DKC talent about how to maximize your debate career. He told students to be true to themselves and to make time to invest in their success. Mr. Fisher's remarks capped an amazing evening where DKC honored its best and brightest for their hard work and commitment to debate.
The evening ended with the remarks mentioned above from Corey Fisher. The event was another great evening of celebrating all the success of a DKC Season.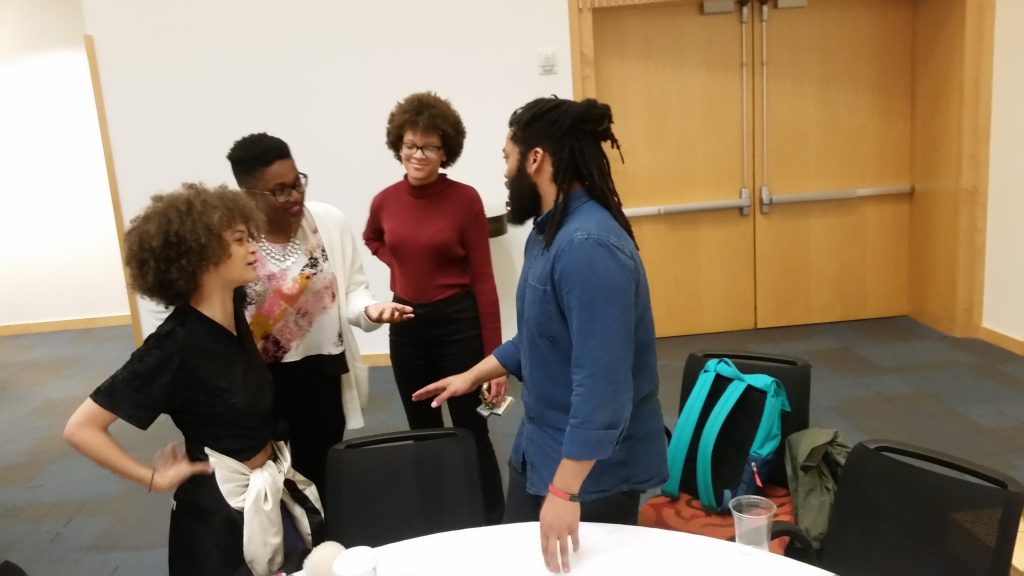 A Full list of winners is below:
Top 10 High School Novice Policy Speakers
University Academy, Elijah Beamon
Allen Village, Mark Hood
Allen Village, Ingrid Gomez
Lincoln Prep, Wren Pratt-Phillips
Lincoln Prep, De'Na Newborn
University Academy, Mahlet Getahum
Lincoln Prep, De'Onta Newborn
Lincoln Prep, Sophie French
Allen Village, Ben Ahsahyah
Allen Village, Tamia Syas
Top 10 HS Novice Policy Wins
Lincoln Prep, De'Na Newborn
Lincoln Prep, De'Onta Newborn
Lincoln Prep, Wren Pratt-Phillips
Lincoln Prep, Sophie French
University Academy, Mahlet Getahum
Sumner Academy, David Dickens
Sumner Academy, Joshua Hinkle
Allen Village, Mark Hood
Allen Village, Ingrid Gomez
Sumner Academy, Ryen Buck
Top 5 JV HS Policy Speakers
Sumner Academy, Simon Folsom
Sumner Academy, Jordan Faught
Kauffman School, Jacob Esquivel
Kauffman School, Payton Earl
Kauffman School, Donovan Herron
Top 5 JV HS Wins
Sumner Academy, Simon Folsom
Sumner Academy, Jordan Faught
Kauffman School, Jacob Esquivel
Kauffman School, Payton Earl
Kauffman School, Donovan Herron
Top 10 Varsity HS Policy Speakers
Sumner Academy, Michael Franklin
Sumner Academy, Royal Sullivan
Sumner Academy, Kasey Romo-Nieves
Allen Village, Leilah Torres
Sumner Academy, Cheyenne Mielkus
University Academy, Raven LaBerrie
Lincoln Prep, Chebet Buckner
Lincoln Prep, Cheyenne Clopton
Lincoln Prep, Alex Thompson
Allen Village, Kailynn Denson
Top 10 HS Varsity Wins
Sumner Academy, Michael Franklin
Sumner Academy, Royal Sullivan
Lincoln Prep, Chebet Buckner
Sumner Academy, Kasey Romo-Nieves
Sumner Academy, Cheyenne Mielkus
University Academy, Raven LaBerrie
Lincoln Prep, Cheyenne Clopton
Lincoln Prep, Alex Thompson
Allen Village, Layla Torres
Allen Village, Kailynn Denson
Top 10 HS Student Congress
Sumner Academy, Royal Sullivan
Sumner Academy, Isaiah Allen
De SION, Mackenzie Hutcheson
University Academy, Jordan Sanders
Sumner Academy,  Renell Buford
Sumner Academy,  Savannah Miller
Sumner Academy, Suan Sonna
C. Harmon, Ivan Buso
Sumner Academy, Amaya Dajani
De SION, Tierney Smith
Middle School Top 10 Novice Policy Speakers
Barstow School, Avisha Pandey
UA Middle, Briana Tolbert
Central Middle, DaRon Trotter
Arrowhead, Ariana Lindsay
UA Middle, Kennedi Dewberry
FLA, Anahi Nunez
UA Middle, E'lon Freeman
Barstow School, Izzy Fears
UA Middle, Jaquez Jackson
UA Middle, Edwin Cornejo
Middle School Top 10 Novice Policy Wins
Barstow School, Isa Herrera
Barstow School, Avisha Pandey
UA Middle, Briana Tolbert
Barstow School, Izzy Fears
Barstow School, Faizan Khalid
Barstow School, Neha Panicker
Barstow School, Ayushi Kothari
UA Middle, E'lon Freeman
Barstow School, Megha Gunapati
Barstow School, Christopher Ramsey
Middle School Top 10 JV Policy Speakers
Coronado, Issis Banks-Bush
Sumner Academy, Mikayla Mielkus
Turner Middle, Cyra Chronister
UA Middle,  Jamaiyah Amerison
LATCA, Darius King
UA Middle,  Alesia McFadden
Turner Middle, Bridget Vogan
Sumner Academy, Jaleon Brown
Barstow School, Jacqueline Tingle
Barstow School, Henry Bash
UA Middle, Jaeda Davis
Middle School Top 10 Wins JV Policy
Barstow School, Henry Bash
Barstow School, Jacqueline Tingle
UA Middle, Jamaiyah Amerison
UA Middle, Alesia McFadden
FLA, Connor Stanley
Sumner Academy, Mikayla Mielkus
Sumner Academy, Jaleon Brown
Turner Middle, Cyra Chronister
Turner Middle, Bridget Vogan
UA Middle, Jaeda Davis
FLA, Christopher Frye
Top 20 Middle School Student Congress
LATCA, Ericka ScottCentral, Tracey Thomas
Rosedale,  Victoria Guerra
Sumner Academy, Leona Whalen
Rosedale, Jennifer Paez
Arrowhead, Kiersten Leach
LATCA, Amijah Parker
Sumner Academy, Areli Garcia
LATCA, Faedra August
Center, Ethan Ford
Smith Hale, D'Ari Wallace
FLA, Daunte Washington
Eisenhower, Kaeden Robbins
Sumner Academy,  Naila Davis
Smith Hale, Andrea Morfin-Valencia
Smith Hale, Ericah Burgess
Center, Analyse Huges
Sumner Academy, Erick Grajeda
West, Edwin Navarrete
Turner, Hanna Garcia
Posted by Isaac on Friday, May 26th, 2017 @ 7:33PM
Categories: News