DEBATE-KC Looks to Build on Big Year
DEBATE-KC Looks to Build on Big Year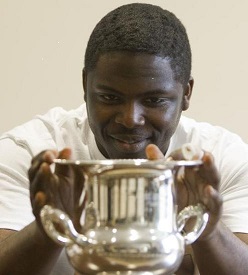 Last year DEBATE-Kansas City (DKC) students and graduates made high school and college debate history, while the number of participants in the league increased nearly 50%. The inspired season will be difficult to follow, but students, coaches and DKC staff have already begun trying.
"The 2012-13 season was very special. With DKC graduate Ryan Wash becoming the first to ever win both college policy debate championships in the same year, and a policy team from Lincoln Prep becoming the first from their school to ever qualify to NFL (National Forensic League) Nationals, our students made a lot of history," said DKC Director Gabe Cook. "On top of all that we added over 100 debaters to the league and had our best fundraising year ever."
This kind of success can lead to complacency but early indications show that will be not the case with DKC. By the middle of August coaches around the league were starting practices with DKC staff and volunteers planning support visits and workshops.
"This momentum is a result of a very active summer. DKC hosted two coach camps, a week-long student camp and met with administrators across the city. Everyone I talk to seems very excited to get debating," said Isaac Allen, DKC's Program Coordinator. "We are hoping to have more schools, more debaters and to be more prepared than ever."
Sumner Academy added to DKC accomplishments last year under the steady hand of head coach Jamelle Brown. Sumner qualified four students to NFL Nationals and 10 to the National Catholic Forensic League tournament. In addition, they had a policy debate team finish fourth at the State of Kansas tournament.
Returning to the league will be head coach Jane Rinehart, formerly of Central. Now in her second year at University Academy Ms. Rinehart will look to grow the team. During her time at Central Ms. Rinehart led Central to countless victories and over a dozen of her debaters, including the dual champion Ryan Wash, received scholarships to debate in college.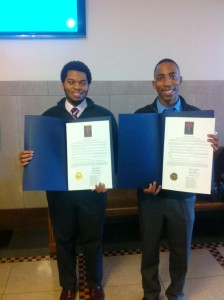 Lincoln College Prep will look to build on a successful year, which included their first ever qualification to the NFL National tournament. Last year the team was given a huge boost by DKC's Volunteer of the Year, Sohail Jouya, who will move from volunteer-assistant to official head coach. In addition to tournament success, Mr. Jouya led a Facebook campaign that won Lincoln Prep a $25,000 grant from State Farm. This summer he got a leg up by attending coach camp at Dartmouth and even visited varsity debaters attending the UMKC student camp.
"Our high school league grew 81% last year and a huge part of the reason was excellent coaching," said Mr. Cook. "DKC is working to grow high school participation even further and to achieve competitive success by providing our tremendous coaches as much support as we can."
Meanwhile DKC's middle school league hopes to reach new heights. Over the summer Jared Hoskins of Lee A. Tolbert Community Academy (LATCA) made DKC history. Mr. Hoskins placed in the top 20 competitors in the event of student congress at the National Junior Forensic League (NJFL) national tournament. He was the first DKC middle school student to accomplish the feat and his squad could not have been more proud. This was LATCA's third year making the trip to nationals and their most successful finish yet.
Coaching also plays a huge a role for LATCA, with talented head coach Bill Lindsey driving the team. He has been the best fundraiser in the league for three straight years, which has allowed his team to compete at nationals, and he's won a DKC coaching award every year in the league. This year could be his and the team's biggest yet because their trip to nationals is going to be much more affordable.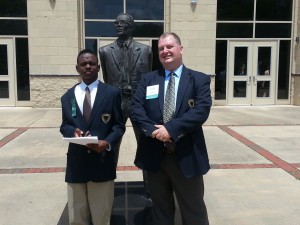 Next summer the NJFL National Tournament will be held in the Greater Kansas City area, eliminating the largest barrier to competing at a national tournament: travel. Unlike the high school tournament, the NJFL does not require victory at a qualifying tournament to attend, so any middle school can enter. Thus, DKC is hoping a majority of all DKC middle schools can take advantage of this unique opportunity. The NFL national tournament for high schools, which requires district qualification, occurs concurrently in the KC area and DKC hopes its high schools qualify as many students as possible.
Last season will be difficult to follow but DKC is more prepared than ever, and with the national tournament in the area, anything is possible.
DKC will need judges and volunteers at tournaments throughout the season. If you would like to judge email DKC Director Gabe Cook at cookgabe@umkc.eduand you see the DKC tournament schedule here.
Posted by Isaac on Thursday, September 19th, 2013 @ 7:43PM
Categories: News