DEBATE-KC Holds Largest Middle School Tournament in League History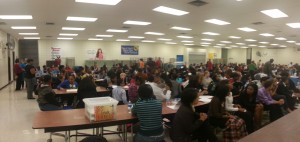 DEBATE-Kansas City's (DKC) kicked off the middle school debate season at Northwest with the largest tournament entry in league history. Nearly 300 students filled Northwest Middle School in Kansas City, KS to compete in policy debate and student congress.
DEBATE-KC's middle school program is already one of the largest in the country and with such an incredible start it could be an historic season. Moreover, if many of these middle school students keep debating, DKC's high school program will soon receive a boon of experienced debaters. Especially significant was the largest middle school policy debate entry in league history.
In past years the vast majority of middle school debaters focused on student congress, with a few advancing to the more academically rigorous policy debate. At Northwest nearly 60 students competed in policy debate and the potential academic benefits are incredible. A 10 year study of urban in Chicago demonstrated that policy debate significantly increases test scores, high school graduation and college acceptance.
"The growth in middle school policy debate is huge. Every round of policy debate leads to academic benefits, so the sooner a student begins debating in policy, the better," said DKC's Director Gabe Cook.
The sheer size of the tournament could have been a logistical nightmare but Northwest proved more than capable of providing a quality tournament experience for all 300 participants. They were able to secure extra food to accommodate the massive size of the tournament, provided over a dozen judges and every resource DKC staff needed.
"Northwest deserved a first place trophy for being such an amazing host," said DKC Program Coordinator Isaac Allen. "It was there first time ever hosting a debate tournament, and it was our largest middle school tournament ever. That combination could have been trouble but it was the opposite. Countless Northwest staff and head coach Mildred Gray were instrumental to making sure everything went to plan," said Mr. Allen.
The tournament also marks for a challenge DKC, one that DKC's Director is happy to have.
"If we continue these amazing participation numbers continue, DKC is going to need more help than ever. We will need more judges and more volunteers to the provide the best tournament experience," said Mr. Cook. "But this is a happy problem because it means debate is once again growing in Kansas City."
The tournament competition was intense with Lee A Tolbert Community Academy (LATCA) winning first place in the school sweepstakes award. LATCA had a solid balance of policy debate and student congress winners to propel them to the most overall points. But Arrowhead Middle was close on their tale by winning first place in three out of four regular congress rooms.
A complete list of the tournament winner is provided below:
Sweepstakes
Lee A. Tolbert Community Academy
Arrowhead Middle School
Foreign Language Academy (FLA)
Top 10 Policy Speakers
FLA, Max Keeney
Barstow, Alex Wang
Barstow, Spencer Walz
Center, Angel Mauro
Lee A. Tolbert, Tariq Nash
Sumner, Taylor Holmes
Center, Johnny Tancredi
Barstow, Eli Pearce
Lee A. Tolbert, Zechariah Stewart
Sumner, Ciarra Hansford
Top 5 Policy Teams
Barstow, Spencer Walz & Eli Pearce
Center, Angel Mauro & Johnny Tancredi
FLA, Max Keeney & Joe Green
Barstow, Jaelan Trapp & Alex Wang
Sumner, Tatityana Hall & Ciarra Hansford
Novice House 1
FLA, Aaron Baker
West, Jazz Brown
FLA, Amira Bryant
West, Yasmin Bruno
Turner, Eli Rowden
Novice House 2
Frontier, Kush Sharma
Hogan Prep, Arya Pratt
Benjamin Banneker, Jamon Peterson
Coronado, Victory Beard
Hogan Prep, Olayemi Sowemino
Novice House 3
FLA, Taylor Corn
Center, Queen Warrior
Center, Deontre Winston
FLA, William Hansen
Central KCK, Reneaux Jackson
Novice House 4
West, Nevaeh Jackson
Center, Christian McDonald
Center, Jayda Chavis
Hickman, Isaiah Como
Arrowhead, Koliya Hicks
Novice House 5
Coronado, Jamie Holst
Arrowhead, Chyenne Mielkus
FLA, Nevaeh Shaw
Arrowhead, Alex Calderon
FLA, Da'Monika Washington
House A
Lee A Tolbert, Ericka Hall
Lee A Tolbert, Arieanna Boyd
Rosedale, Breanna Alexander
Center, Cydney Pane
FLA, Shekhem, Assata
House B
Arrowhead, Colin Barnes
FLA, MaryBeth Eddy
Lee A. Tolbert, Zion Piper
Lee A. Tolbert, Shayana Davis
Rosedale, Todriq Locke
House C
Arrowhead, Suan Sona
Arrowhead, DeAuan McClaine
FLA, Lucy Hansen
FLA, Sam Keeney
Lee A. Tolbert, Josiah Hoskins
House D
Arrowhead, Luke Hogue
Frontier School Innovation, Katelyn Heckeroth
FLA, Emmanuel Nunez
Hickman , Dominic Pellettiere
FLA, Lucy Mulholland
Posted by Isaac on Thursday, May 30th, 2013 @ 4:41PM
Categories: News