DEBATE-KC has Success at the Dowling and Builds Tradition with Donor Support.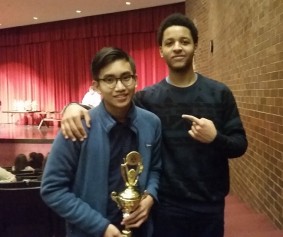 DEBATE-Kansas City (DKC) sponsored a trip for twenty students to compete at the prestigious Dowling Catholic Paradigm speech and debate tournament in Des Moines, IA December 11-13, 2015. Powered by support from Go Fund Me donors, DKC students from Center, Lincoln Prep and University Academy competed in every division of policy debate. DKC teams in both the varsity and junior varsity division advanced through six grueling preliminary rounds to elimination debates.
The Lincoln Prep duo of Monica Medeiros and Ellen Baker advanced through a 72 team field, won their first elimination round and finished in the top sixteen. In junior varsity, Phillip Nguyen of Lincoln Prep and Brandon Fields of University Academy teamed-up to make it all the way to the semi-finals.
"This was the favorite tournament of my career," said senior Brandon Fields. "Last year when we came here I was just getting into debate, and the Dowling opened my eyes. Getting to debate against the best competition is so critical to getting better. I wish I could do it one more year!" Mr. Fields said.
This marks the second year DKC was able to sponsor this important trip to the Dowling. It had been a DKC tradition starting in the late 90s, but budget cuts after the Great Recession caused the trip to temporarily disappear. Thanks to nearly a $1,000 from Go Fund Me donors, DKC was able provide hotel rooms, entry fees and meal support while schools were able to cover busing costs.
"This tournament is a great DKC tradition," said Ellen Baker, another DKC senior who was on the trip last year. "Now I can't imagine a debate season without a trip to the Dowling!"
DKC intends to keep the trip to the Dowling partially because it offers debaters like Ellen Baker and her partner Monica Medeiros the chance to earn a bid to the Tournament of Champions (TOC) debate tournament held every April by the University of Kentucky. Tournaments of the highest caliber register with the TOC to create bids based on tournament performance. At the Dowling, varsity teams that advance to the top eight earn a TOC bid.
"Even though we finished one win short of our TOC bid goal, the Dowling was one of the best tournaments all year," said Ms. Medeiros. "Being part of DEBATE-KC trip with multiple schools means a lot."
All of the students benefited from the trip and DKC staff went along for the ride to help with judging and to support DKC students and coaches. The level of debate at the Dowling is extraordinarily high and the judging pool is known for being both fair and instructive. Many of the judges have association with college debate programs and they attend the Dowling to recruit future debaters.
"The Dowling is a very important experience for DKC students," said DKC Executive Director Gabe Cook. "The exposure this tournament provides students both in terms of argument quality and college recruitment is huge. We are dedicated to making this a tradition because it means so much for the kids."
DEBATE-Kansas City thanks our Go Fund Me donors that made the trip possible. The list of donors is below.
Varsity ($50 and above)
Elizabeth Rosin
Art Delgado
Christine Taylor-Butler
Andy Atkins
Brad Thomas
David Budinger
Rachel Thompson
Jason Edgar
Darrell Hyche
Serena Richardson
Josh Sulier
Junior Varsity $25
Jan Kohl
Meggie/Mike
Linda Innes
Michael Russo
Amanda Ozaki
Gary Owens
Other
Norell Grimes
Courtney
Isaac Allen
Billy Brame
Parker Mitchell
Katrina Gibbs
Posted by Isaac on Tuesday, January 26th, 2016 @ 4:37AM
Categories: News